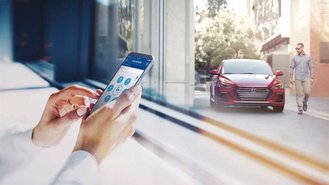 Hyundai has opened a new frontier in the ongoing effort to operate as much of one's life as possible through smartphone apps. The Korean automaker has announced that a three-year subscription of remote functions will be included in Blue Link, Hyundai's smartphone-compatible telematics system for appropriately-equipped new 2018 vehicles and the 2017 Ioniq.
Blue Link's feature set now includes such highlights as remote starting and locking, monthly vehicle health updates, Google-connected destination search and free online map updates on vehicles equipped with navigation, and even remote-controlled defrosters for the rear glass and mirrors on the Elantra GT and Sonata. In an interesting twist, Blue Link will be functional not only through a smartphone or smartwatch app but also through Amazon's Alexa personal assistant.
Blue Link's remote controls have already proven to be popular ownership features; among other capabilities, Hyundai cites statistics showing a million remote starts per winter month.
The announcement coincides with the introduction of the revised 2018 Sonata at the New York International Auto Show.