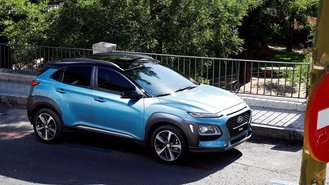 With crossovers all the rage right now, Hyundai's lineup is lacking. But that's about to change, as the automaker is set to introduce eight new or re-engineered crossovers through 2020 in the US. The first new crossover is the compact Kona, debuting at the 2018 LA Auto Show and hitting showrooms in early 2018.
"The Kona is only the beginning of our product revolution for Hyundai," said Mike O'Brien, vice president, product, corporate and digital planning, Hyundai Motor America.
Hyundai is doing more than just introducing new crossovers. The automaker will have a fuel-cell and electric crossover available sometime in 2018, based on the timeline given. In 2020, customers should expect a diesel crossover.
"These vehicles are aimed squarely at the sales leaders in each segment and will emphasize Hyundai's continued focus on sustainability and efficiency without compromising performance," O'Brien added.
The eight new crossovers will encompass a range in size from a tiny A-segment offering offering up to a large, eight-passenger crossovers. The A-segment represents the smallest vehicles on the market, which isn't exactly where crossovers roam.
"Very soon we are going to have the most diverse CUV powertrain lineup in the industry. These vehicles will show the engineering prowess of the more than 13,000 engineers Hyundai Motor Company has working on current and future models every single day. Our customers are going to have a lot of great CUV choices in our dealerships."
Alongside the Kona's debut in Los Angeles later this month, we can expect additional crossover introductions at the Detroit, Chicago, and New York auto shows.