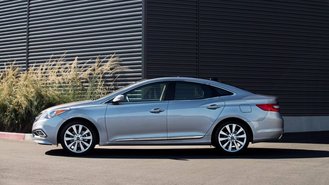 The Hyundai Azera is not long for the US market.
The automaker said this week it will stop importing the large sedan after the 2017 model year. While a new Azera will likely be unveiled for South Korea and other global markets soon, Hyundai Motor America believes prospective Azera customers will be better served by other Hyundai or Genesis-branded vehicles.
Launched for 2006 and redesigned in 2012, the Azera competed with the likes of the Toyota Avalon and Ford Taurus as a mainstream full-size sedan. But as that segment floundered in the face of rising CUV demand, the Azera truly suffered – with more features and a commensurately higher price because of it, it has been by far one of Hyundai's slowest sellers in the US for years – it represented just 0.64 percent of Hyundai's total US sales in 2016.
Part of the reason behind the Azera's lagging sales came from the fact it was squeezed in both size and price by the midsize Sonata and the premium-branded Genesis G80 (formerly the Hyundai Genesis Sedan). With a revised 2018 model, Hyundai wants to stem a slide in Sonata sales. But they also want to bring those willing to spend more than $40,000 on a sedan into the Genesis fold. That last element is particularly important as Hyundai continues to expand its fledgling premium brand – the G80, which helped cannibalize Azera sales, will soon be joined by a smaller G70, which would have put a further squeeze on Hyundai's most unpopular four-door.
Keen shoppers, however, may enjoy the Azera's space and features, and should be on the lookout for bargains as the final models leave sales lots this year.