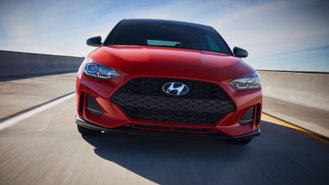 The Insurance Institute for Highway Safety's (IIHS) crash tests are difficult – and for good reason. The crash tests are meant to put the vehicles through strenuous tasks to ensure they'll keep occupants safe in an accident. Sometimes, automakers get it right straight out of the gate. Other times, it takes a few tries. After fixing a major issue, the 2019 Hyundai Veloster received the institute's Top Safety Pick award.
The redesigned 2019 Veloster is one of the few vehicles on the road that has a unique layout. The hatchback has two hinged doors on the passenger side, while the driver's side only has one. It's a design that's meant to make limit the way people get into the back of the vehicle, but it led to an interesting incident during the IIHS' testing.
During the IIHS' first two side crash tests, the driver door opened during the tests. This is a huge problem, as it could result in one of the occupants being ejected from the vehicle in a crash. Upon hearing about the issue, Hyundai fixed the Veloster's door for models built after January and that fixed the problem. For vehicles built before the test results, Hyundai recently issued a recall for roughly 12,400 Velosters earlier this month to fix the door latch.
With the door latch issue fixed, the Veloster earned the IIHS' Top Safety Pick award. The hatchback earned a rating of "Good" in all six of the institute's crash tests and had a front crash prevention system that was found to be "Superior." Depending on the trim level, the Veloster's headlights were found to be "Acceptable," which is enough to get a Top Safety Pick award, and "Poor."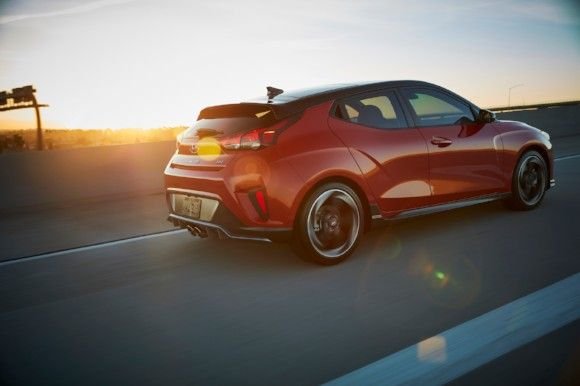 The halogen projector headlights found on the base 2.0 and 2.0 Premium were found to be "Poor," so those don't qualify for the IIHS' Top Safety Pick award. Consumers will have to move up to the midlevel Turbo R-Spec trim that starts at $23,820 (prices include destination) to get into a Veloster that meets the IIHS' Top Safety Pick rating. All of the Turbo trims (Turbo R-Spec, Turbo, and Turbo Ultimate) come with LED projector headlights. The entry-level 2.0 carries a price tag of $19,420, while the 2.0 Premium is priced at $23,670.
Other compact hatchbacks that earned a Top Safety Pick include the Volkswagen Golf GTI, Toyota Corolla Hatchback, Mazda3 4-door, and the Hyundai Elantra GT. The Subaru Impreza Wagon and the Subaru Crosstrek are a few of the small hatchbacks that earned a Top Safety Pick Plus award.