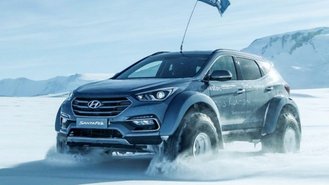 A century after his great-grandfather tried to cross the Antarctic, Patrick Bergel completed the trip – in a Hyundai.
Bergel is the great-grandson of Ernest Shackleton. The first man to bring a car to the Antarctic way back in 1907, Shackleton's exploits in cold, inhospitable climates made him a legend in the early 20th century. But despite pioneering Antartica's automotive culture, the Brit's Arrol-Johnston failed to survive the Nimrod Expedition. It wasn't Shackleton's last attempt, although his 1914 to 1917 expedition ended in disaster after his ship, the Endurance, sunk in pack ice.
In 2016, Bergel managed to complete the trip in a Hyundai Santa Fe, which is a far cry from Shackleton's Arrol-Johnston. The automaker modified the crossover to tackle the difficult terrain and temperatures in the Antarctic, adding a new low-range gearbox and a robust engine heater, so the Santa Fe wouldn't be rendered immobile like Shackleton's car. Hyundai also ditched the original fuel tank for a far larger one. And enormous off-road tires were added. In short, Bergel's Santa Fe looked as tough as his great-grandfather was.
Bergel's trip from the Union Camp start to McMurdo Sound took 30 days, covering 5,800 kilometers (3,603 miles). You can check out the recap of that journey below.