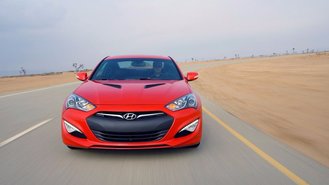 With Hyundai moving its upscale cars to the Genesis brand, which will include six models by 2021, there is bound to be a little collateral damage within the automaker's current lineup. Between the fact that Hyundai models have long been getting more and more luxurious, and the naming issue surrounding the Genesis Coupe, there are a lot of changes that Hyundai will need to make as its new brand grows.
Recently, a new report from The Globe and Mail made it clear that Hyundai has already decided what will happen with its Genesis Coupe. According to the report, which quotes Hyundai spokesperson, Chad Heard, the Korean automaker will end the Genesis Coupe's production following the 2016 model year.
Honestly, this comes as no surprise since the Genesis Sedan is now the G80, so it really makes no sense for the Genesis Coupe to remain a part of Hyundai's lineup. Fans of the Genesis Coupe can relax, as Heard says that there is a coupe in the plans for the new Genesis brand. While there is no mention of when this model will arrive, or what its name will be, it is safe to assume that Genesis will fill out the most popular segments—namely sedans and crossovers—before releasing a niche model like a luxury coupe.
For those who can't wait for Genesis to release its luxury coupe, the Cadillac ATS Coupe is available and has some great deals. The base lease deal on the ATS Coupe runs just $349 per month with $4,039 due at signing. There is also a $3,000 rebate available for buyers and lessees. Those looking for extra performance can get an outstanding deal on the 2016 ATS-V Coupe that runs $479 per month with $4,789 due at signing.