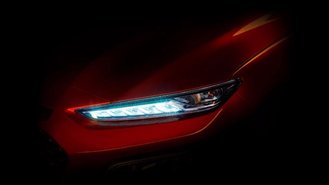 Hyundai is finally set to launch a rival to the likes of the Honda HR-V and Chevrolet Trax this year with the new Kona crossover.
As seen on Motor Authority, the Korean automaker on Friday released a teaser photo of the Kona's front end, with a grille reminiscent of other recent Hyundai vehicles, especially the recently launched 2018 Elantra GT and Sonata cars.
The Kona is likely to be based on the future Hyundai Accent and Kia Rio subcompact vehicles and sized similarly to other subcompact crossovers. Power should come exclusively from four-cylinder engines mated to an automatic transmission. Front-wheel drive will be standard, while all-wheel drive is a likely option considering many buyers in this segment opt for that all-season tool.
Until now, Hyundai's smallest SUV has been the Tucson. But the Kona will give customers who don't need the Tucson's space, size, or expense – often young urbanites or empty nesters looking to downsize from larger vehicles – another option.
Hyundai will introduce the Kona in Europe this summer, with a US debut slated for later in 2017.