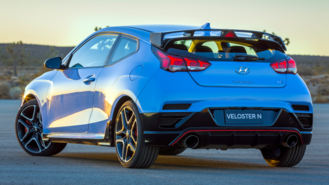 Take a peek at Hyundai's lineup, and the South Korean brand has a competitive option on the electric front and on the sportier side of things. The Hyundai Kona EV has an impressive range of 258 miles, while the Veloster N is a true high-performance hatchback. Now, Hyundai is looking to Rimac for some help on combining the two worlds.

Earlier this week, Hyundai and its sister company Kia, announced an investment of roughly $90 million in Rimac, a Croatian-based electric company that's responsible for the C_Two battery-powered EV that makes 1,914 horsepower. With that little tidbit of information, it shouldn't be a surprise to hear that the partnership will see the companies work on two high-performance EV concepts by 2020. While batteries will power one vehicle, the other one will be a fuel-cell electric car.
One of the prototypes that the companies will develop includes a midship sports car that will fit under Hyundai's N brand. Currently, at least for the U.S. market, the Veloster N is the only vehicle that's sold under the brand's N umbrella. It's possible that Hyundai could use Rimac to build an electric Veloster with a mid-engine design or come out with an all-new mid-engine sports car. But that's all speculation, as the companies are hush on specifics at the moment.

Rimac has become one of the more popular companies traditional automakers want to work with. The Croatian company has impressed the industry with its powerful sports cars and high-performance electric powertrains. Other brands that are working with Rimac include Porsche, Aston Martin, Pininfarina, and Koenigsegg.