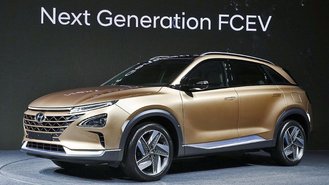 Stricter emission standards are forcing automakers to invest in new fuel-efficient powertrains for the majority of the vehicles in their lineup and Hyundai is the latest automaker to create an electric-vehicle-only plan. Automotive News reports that the Korean automaker recently announced its strategy to emphasize EVs before it falls too far behind the competition.
Hyundai's a little late to the electric party, as the automaker put its eggs in fuel-cell technology, but is looking to quickly shift gears as the rest of the industry attempts to have an answer to Tesla's dominating presence. The plan, as AN reports, will see Hyundai launch an electric sedan with a range of 310 miles on a full charge under its Genesis brand in 2021. Hyundai also has plans to put an electric version of the Kona crossover onto the road next year that will have a range of 242 miles. But that's not all, as Hyundai and its Kia affiliate said they'll add three plug-in cars to their overall plans, bringing the total to 31 models by 2021, reports the outlet.
"We're strengthening our eco-friendly car strategy, centering on electric vehicles," Executive Vice President Lee Kwang-guk said at a news conference.
Automotive News also reports that Hyundai confirmed that it was developing a dedicated electric vehicle platform, which would be a first for the automaker, allowing it to manufacture multiple models on one chassis, while continuing to develop the platform.
Hyundai released its first EV, the Ioniq, last year, which has an EPA rated combined range of 124 miles on a single charge. While the vehicle is only a year old, it's already become redundant thanks to new offerings from Chevrolet and Tesla, alluding to just how rapidly EV technology is evolving.