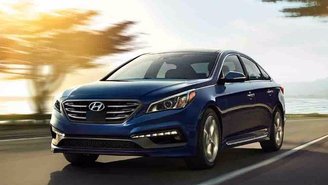 Earlier this March, Hyundai issued an enormous recall for approximately 977,778 Sonata sedans from 2011 to 2014. The recall also affected Sonata Hybrids from 2011 to 2015 over seat belt linkages for the front seats that may detach from the seat belt anchor pretensioners. That, as the National Highway Traffic Safety Administration, said earlier this year, could increase the risk of an accident.
While Hyundai checked all of the linkages on the affected vehicles, and repaired the ones it found to be defective, the Korean automaker recently announced another recall over the exact same issue. According to the NHTSA, the new recall affects 443,545 Sonatas from 2011 to 2014 and Sonata Hybrids from 2011 to 2015.
Dealers will verify that the connection between the seat belt linkage and the pretensioner exists, just like on the last recall, and will also install a warning label to ensure that the issue doesn't arise again.
The recall will begin sometime this month, with dealers reaching out to owners. Sonata and Sonata Hybrid owners can reach out to the automaker's customer service line at 1-855-371-9460 and reference recall number 169. The recall will be completed free of charge.