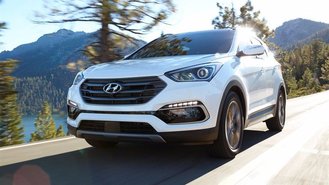 Owners of various Hyundai models may be affected by two separate safety recalls.
Approximately 437,000 Hyundai Santa Fe and Santa Fe Sport crossovers from 2013 to 2017 are being recalled because of faulty hood latches. A cable in the latch could corrode and prevent the hood from securely closing, increasing the risk of crash or injury.
The National Highway Traffic Safety Administration announced the recall Thursday, according to Automotive News, after Hyundai opened an investigation into the problem last year and implemented a fix from June 2016. There have been three reports of the hood becoming unlatched and the problem can also cause the hood not to open at all.
Hyundai is also recalling 161,000 Sonata and Genesis sedans from 2015 and 2016 over a separate issue that may prevent the parking brake light from going on, potentially causing drivers to leave the brake on while driving. This could cause unusual noises or smells, as well as additional wear and tear on the brakes.
Hyundai says it will start implementing repairs for both recalls beginning June 30.