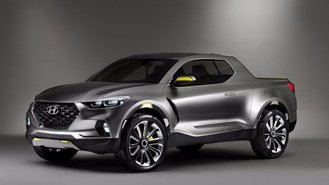 Full-size pickup trucks like the Ford F-150 are extremely popular in the US, but demand for smaller mid-size pickups has skyrocketed in recent years, forcing automakers back into the once-deserted segment. General Motors, for instance, has returned to the segment with the Chevrolet Colorado and the GMC Canyon, while Toyota and Nissan still have their offerings with the Tacoma and Frontier, respectively. Ford even wants to enter the marketplace by bringing the Ranger nameplate back. And now, Hyundai has confirmed that it's coming out with a truck in 2018.
In a report by Reuters, Hyundai confirmed its plans to launch a pickup truck for the US market. Michael O'Brien, vice president of corporate and product planning for Hyundai's US arm, told the outlet that management officials within the company have given a pickup truck, similar to the Santa Cruz Concept from a few years ago, the go-ahead.
If Hyundai were to base the production version on the Santa Cruz, the vehicle would be smaller than the aforementioned midsize pickup trucks, as the concept was more of a crossover that happened to have a bed for users to utilize. The concept also featured a 2.0-liter four-cylinder diesel engine, which could make it into a production version of the vehicle, as Hyundai is rumored to be developing a four-cylinder diesel motor for a vehicle under its Genesis brand.
Retuers' report also claims that Hyundai is planning to release the Kona, a compact SUV, in the US before the end of the year, as part of the automaker's plan to unveil three new or revised SUVs by 2020. The automotive industry, especially China, which, as the outlet claims, is the world's largest market, is moving towards SUVs in different shapes and sizes. And since Hyundai's sales are down approximately 11 percent this year through the end of July, the automaker hopes to boost its figures with more SUVs and the upcoming pickup.