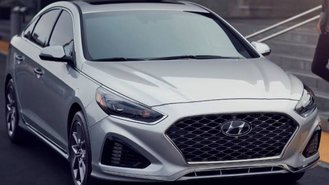 Until recently, consumers wanting some "oomph" with their Hyundai Sonata could choose the 2.0T version of the Sport trim over the standard 2.4-liter engine. The 2.0T came with larger brakes, a revised suspension, and, most importantly, a 245-horsepower turbo. Unfortunately, 2019 pricing guides reveal Hyundai is no longer offering the Sport with a turbo.
For 2019, you'll still be able to buy a Sport, but it's going to come with a 2.4-liter naturally-aspirated engine rated at 185 horsepower. That means the 2.0T is now only available in the range-topping Limited. This is effectively an extension of mid-year changes Hyundai made with the 2018 "Plus" trims, as Hyundai spokesperson Miles Johnson confirmed.
One could argue the change doesn't really make sense. The Sport is, well, supposed to be the sportiest offering in the lineup, yet it no longer offers the sportiest engine. The turbo produces a good amount of power, but is down on horsepower compared to rivals.
The Honda Accord's available turbocharged 2.0-liter four makes 252 hp, the Mazda6's available 2.5-liter turbo produces 250 hp, the Toyota Camry's available 3.5-liter V6 generates 301 hp, and the Ford Fusion Sport's 2.7-liter turbo four is rated at 325 hp.
In terms of price, the 2018 Sonata 2.0T Sport had a base price of $28,485 (including $885 destination charge). For 2019, stepping up to the Limited will require $32,785, a difference of $4,300. That's quite a step up to get the most powerful engine.
As we found in our review of the 2018 Sonata, the mid-size sedan was more enjoyable to drive than a Nissan Altima, but missed out on being as fun to drive as a Mazda6, which continues to be the most amusing vehicle in the segment.