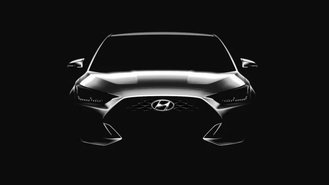 As automakers push to create more crossovers, the Hyundai Veloster, a funky, three-door hatch, is surprisingly getting a successor. The new Veloster will arrive next week at the 2018 North American International Auto Show in Detroit.
The Hyundai Veloster, first introduced in 2011 and seen as a concept in 2007 as the HND-3, is unique in that it has a single door on the driver side and two doors on the passenger side. The new Veloster will retain the four-door, hatchback design of the current model.
From the teaser image, a wide grille dominating the front of the new Veloster is noticeable. It's flanked by headlights that feature trendy LED running lamps. The profile shows a sleek roofline that manages to hide the fourth door well and aggressive wheel arches – this isn't a dramatic departure from today's car. A pair of center-exit exhausts are shown, indicating that the car we're seeing could be a new version of today's Veloster Turbo.
Hyundai will have more details available when the North American International Auto Show kicks off January 15.