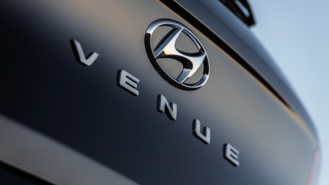 The New York Auto Show is next month, and it's there Hyundai will unveil its newest, smallest crossover yet—the Hyundai Venue. It'll slot below the Hyundai Kona in the brand's portfolio giving customers looking to wiggle their way into the brand an entry-level offering. Considering the growing popularity of crossovers in the U.S., a compact product could help sway prospective buyers into the Hyundai family. But, it'll face stiff competition.
Over the last few years, automakers have scrambled to introduce compact, affordable crossovers that serve as entry-level offerings into the brand. Examples include the Ford EcoSport, Honda HR-V, Jeep Renegade, Nissan Kicks, Chevrolet Trax, and more. The majority start within a stone's throw of $20,000. Considering the Hyundai Kona starts at $21,035, the smaller Venue will undercut the price, likely starting at around $18,000.
Hyundai gave little in the way of useful information about the Venue. It'll likely ride on a version of the Kona platform powered by a detuned version of its 2.0-liter naturally aspirated four-cylinder engine. A manual is possible, too. The position of the Venue—below the Kona—could serve as a viable substitute for the now-defunct Hyundai Accent hatchback. This could help keep customers looking for something small and versatile within Hyundai.
Hyundai will reveal the Venue at the New York International Auto Show on April 17.