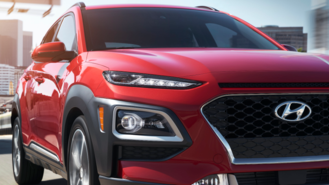 Hyundai may be late to the SUV party, but the South Korean automaker is looking to make up for lost time with a new addition to its lineup. According to MotorTrend, Hyundai will use the New York Auto Show as the venue to showcase a subcompact crossover that will slot below the Kona.

The Kona is a B-segment vehicle, while the upcoming crossover will be an A-segment offering. The smaller vehicle won't be as radically styled as the Kona and will be noticeably different. "It's smaller and it's distinctively different than Kona," SangYup Lee, head of Hyundai's Global Design Center, told the outlet.

Lee didn't provide a lot more information than that, but did state that the vehicle would have a "really fast profile, distinctive, iconic character to it, but this one is almost very boxy, bold, bull-doggy character." Boxy and bull-doggy have us thinking about the Kia Soul.
There aren't a lot of A-segment crossovers available in the U.S. The Fiat 500 and the Mini Hardtop 2 Door are the obvious ones that come to mind. Small vehicles aren't exactly popular in the U.S., but Hyundai sees a market for something that would fit below the likes of the Honda HR-V, Jeep Renegade, Ford EcoSport, and Mazda CX-3.

While other automakers were preparing for the SUV rise, Hyundai depended on the Tucson and the Santa Fe as its only large offerings. While sales are up compared to last year, Hyundai's SUVs aren't as popular as Japanese rivals.
Honda sold a total of 1,445,894 vehicles in 2018, with the CR-V accounting for the most sales with a total of 379,013 units sold. Nissan moved 1,493,877 cars last year, as the popular Rogue accounted for 412,110 vehicles sold. Jeep, the only all-SUV (and now pickup truck) brand on the market sold 973,227 vehicles in 2018.

In contrast, the most popular Hyundai is the Elantra. The compact sedan accounted for 200,415 sales in 2018. The Tucson was in second with 142,299 units sold, while Santa Fe came in third with 117,038 vehicles sold.
With a smaller crossover coming out underneath the Kona in the future and the eight-passenger Palisade coming out this year, Hyundai is positioning itself to be more competitive in the SUV scene.
Explore Hyundai's current lineup »
Pictured: 2019 Kona Electric