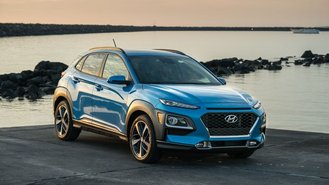 The 2018 Hyundai Kona failed to earn the Insurance Institute for Highway Safety's Top Safety Pick Plus award in July, prompting the automaker to change the crossover's LED headlights. The IIHS previously gave the Kona a "Poor" rating for its headlights, preventing it from earning a top safety rating. The new lights earned a "Good" rating, and the Kona was named a Top Safety Pick Plus – the IIHS' highest designation.
While Hyundai did update the Kona's LED headlights, they're only available on the two most expensive trims: the Limited and Ultimate. The base Kona SE starts at $20,480 (all prices include the $980 destination charge). If customers want LED lights that make the Kona a Top Safety Pick Plus, they need to spend at least $25,680 for the Limited model, which comes with the LEDs as standard equipment.
The updated headlights put the Kona ahead of the competition. The 2018 Mazda CX-5 is the only other small SUV that has earned the IIHS' top designation this year. Compact utility vehicles such as the 2018 Jeep Renegade, 2018 GMC Terrain, and 2018 Toyota C-HR earned "Poor" ratings for their headlights – the lowest possible.
It's rare for an automaker to redesign a specific part of the car so early in a model's production. Often, they'll wait until a mid-cycle refresh to fix any issues.