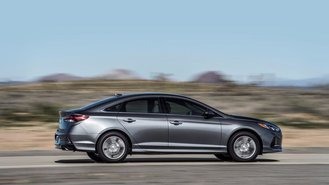 America's vast highway network and the popularity of Hyundai's Highway Driving Assist technology–the automaker's Level 2 autonomous system technology–in South Korea have delayed the technology's implementation in the US. But Hyundai's active safety suite will arrive in the U.S. in 2019 on the next-generation Sonata and refreshed G90. The technology hit the South Korean market four years ago.
HDA works by combining lane-keep assist and adaptive cruise control. The system does not have self-steering. This means vehicles can detect if the driver's hands are on the steering wheel and will sound an alert when removed.
This system is similar to Nissan's ProPilot, which will launch on the 2018 Rogue SL Platinum and the 2018 Nissan Leaf. A button on the steering wheel activates the system, assisting drivers with acceleration, steering and braking input under certain driving conditions. It will be the foundation for Nissan's future autonomous vehicle technology.
Hyundai's HDA is significantly different than Cadillac's Super Cruise highway system, though. Super Cruise allows hands-free driving when conditions allow the feature to function correctly. However, the driver must remain attentive, which Cadillac monitors (thoroughly) through proprietary head tracking software.
Hyundai says there are still several hurdles in the way before autonomous vehicles become affordable to a wide market. One is power consumption–self-driving systems draw a lot of juice to process the data necessary for autonomous driving. The second hurdle is data storage and privacy. Hyundai's HDA technology is the groundwork needed for the future of autonomous vehicles for the automaker.