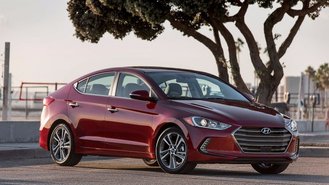 Regardless of current regulations and dealership pushback, selling new cars online is the future. Today, Hyundai has announced that it will experiment in this sales channel with a little help from an online retail giant.
Hyundai has paired up with Amazon.com to give buyers a partial online buying experience. No, you cannot just pick the car you want and "One-Click Buy" it like you can a pair of sneakers. Instead, the Korean automaker is going to use Amazon Prime Now—the service that provides same-day delivery of certain items in select metro areas—to set up and complete 2017 Elantra test drives.
While this sounds like a move in the right direction, there are a few caveats. First, this program is only available in the Los Angeles and Orange County areas. Second, this is only a temporary program that ran from August 20 through 21 and will run again from August 27 through 28.
Despite being only a temporary and quite limited affair, the concept is neat. The prospective buyer simply chooses a time between 9:00 a.m. and 7:00 p.m. on the select days and the car will show up wherever they like for a 45- to 60-minute test drive.
There is no indication of Hyundai planning to extend this program beyond the pilot.
In addition to this convenient test-drive program, Hyundai is also offering a decent lease deal on the 2017 Elantra. Buyers can snag one up on a 36-month lease for just $169 per month with $1,999 due at signing. Hyundai is also offering $1,000 in bonus cash and 0.9 percent APR for up to 60 months on the 2017 Elantra.