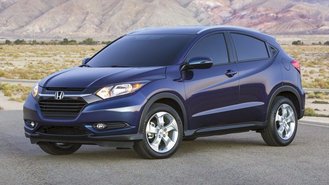 The IIHS is always looking for new ways to push automakers to produce safer cars. A few years back, it introduced the new small-overlap crash test, giving many automakers fits. Recently, the institute released its newest set of safety tests that shine the spotlight on headlights. Earlier this year, the IIHS tested midsize sedans and found all but a few performed miserably, and now it found that small SUVs are no better.
The IIHS brought together 21 different models with a total of 47 headlight variations and put them through rigorous testing. To come up with its ratings, the IIHS tested all 47 headlight options in five scenarios—straightaway, gradual left curve, gradual right curve, sharp left curve, and sharp right curve—and used instrumentation to measure the amount of usable light from the headlights. Additionally, the agency tested the glare that oncoming drivers experienced from each model with its low-beam headlights activated. If the latter test resulted in excessive glare, the IIHS immediately gave the model no higher than a "Marginal" rating.
Of the 47 headlight variations tested, the best-performing model was the Mazda CX-3 Grand Touring, thanks to its curve-adaptive LEDs that offered good illumination on all right curves and straight stretches. Also helping out was the optional high-beam assist, which is the only technology for which the IIHS added bonus points. Despite its class-topping performance, the CX-3 still only received an "Acceptable" rating as its low-beam illumination was only fair on a sharp left curve and inadequate on a gradual left curve.
Rounding out the rest of the "Acceptable" rated vehicles was the Ford Escape, Honda CR-V, and the Hyundai Tucson.
On the other end of the spectrum, 12 of the 21 vehicles tested fell in the "Poor" category, and the worst was the Honda HR-V. According to the IIHS, Honda's small people hauler offered inadequate illumination in all corners and on straightaways.
While this may seem insignificant at this point, the IIHS is taking headlight effectiveness seriously by announcing that beginning in 2017, no vehicle can qualify for its coveted Top Safety Pick+ designation without earning at least an "Acceptable" rating in this test.
For those looking to get their hands on one of these top-rated models and still want a great deal, the 2016 Honda CR-V is the way to go. It has some of the best lease deals in its class, like its 36-month contract that requires just $2,399 at signing and monthly payments of $199.