Toyota is one of the many automakers that are focusing on improving the safety of its vehicles with more standard safety equipment. So we were surprised to see the all-new 2019 Toyota RAV4 fail to earn the Insurance Institute for Highway Safety's (IIHS) top safety rating when it tested the SUV back in May. It might have taken some time, but the new RAV4 has earned the institute's Top Safety Pick Plus, but it only applies to the range-topping hybrid trim.
The 2019 RAV4 is now one of the few Top Safety Pick Plus vehicles in its segment, earning a rating of "Good" in all of the IIHS' crash tests and having a standard front crash prevention system that was found to be "Superior." But these were never part of the RAV4's problems. The issue was with the headlights, which the range-topping Hybrid Limited fixes by having an available adaptive front headlight system that was rated to be "Good." The headlights boosted the RAV4's score to the IIHS' best rating possible.
Previously, the IIHS named the RAV4 as a Top Safety Pick, as the vehicle missed out on the Plus designation because of its headlights that were found to be "Marginal." The issue was that the IIHS wasn't able to test the Limited trim before, which is why the safety rating has been updated.
"IIHS was not able to obtain the Hybrid Limited version for testing until recently. The RAV4 qualifies based on headlights only available for the Hybrid Limited trim," said Russ Rader, IIHS Senior Vice President of Communications.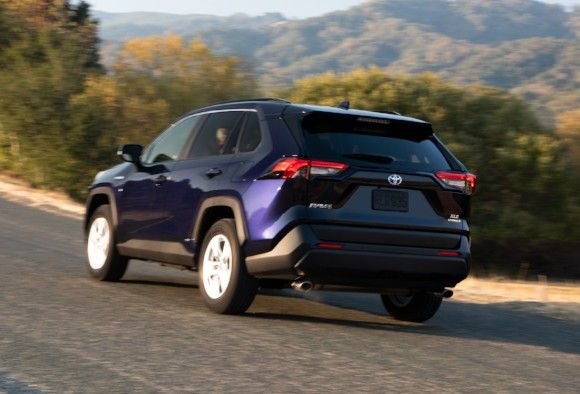 While the Hybrid Limited is a Top Safety Pick Plus, every other RAV4 is a Top Safety Pick. The majority of other RAV4 trims have LED headlights that earned a rating of "Marginal." The Hybrid XLE, Hybrid XSE, and Hybrid Limited (without the available adaptive headlight package) have headlights that were found to be "Poor," which is the worst score possible.
Getting the IIHS' highest safety rating is great news for Toyota, but it puts buyers in a tricky position, as they have to go all the up to the Hybrid Limited trim, which is the most expensive RAV4 available. Pricing for the trim starts at $36,970 including destination.
But in order to get the optional adaptive headlights, you'll have to get the $2,010 Limited Grade Weather Package with options (yes, that's its entire name) package. So a Hybrid Limited that meets the institute's Top Safety Pick Plus rating actually costs $39,980. A base LE trim costs just $26,770.
Other Top Safety Pick Plus vehicles in the compact SUV segment include the Hyundai Tucson, Mazda CX-5, and Subaru Forester.