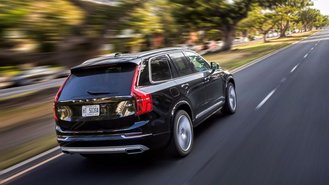 Finding an inexpensive car that also scores well for crash protection is getting easier, according to a new study from the Insurance Institute for Highway Safety. And that means new drivers can get behind the wheel of a vehicle that should give their parents more piece of mind.
The IIHS last week released a list of the best used vehicles for teens. These examples scored well in both frontal and side crash tests and offer good head restraint protection and electronic stability control. The safety agency also factored in the vehicle's performance in the stringent small overlap frontal crash test for the first time this year.
Prices range widely, from $2,000 to about $20,000, for these vehicles. But the list shows the array of different used vehicles that perform well in all tests. IIHS says its Best Choices range from the $2,500 2005 Volvo XC90, to the $5,300 2008 Dodge Avenger, to the 2014 Infiniti Q50 that starts from $19,100. Aside from the Avenger, those are surprisingly cool choices for younger drivers.
While it sounds like common sense, the IIHS advises against mixing teen drivers and high horsepower. While there are some sporty offerings on the comprehensive recommendation list – including the aforementioned Q50, its stablemate the Q70, the Acura TL, and the Honda Accord Coupe – there's a distinct absence of hot hatchbacks and muscle cars. But teens and their parents should also look at vehicles that are bigger and heavier – there's a reason several Volvos are on the list – as those are likely to protect occupants best in crashes. And electronic stability control, which became required on all new cars starting from 2012 models, is key to avoiding a crash in the first place.
Budgets for new drivers can vary widely and a nearly new crossover for $20,000 may sound like a luxury few families can afford for a teenager. But the IIHS' study shows there are lots of other used cars that can keep an inexperienced driver safe for far less money.