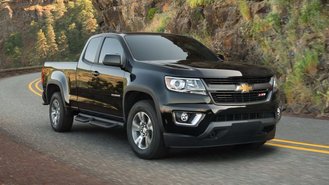 The emergence of the midsize pickup truck segment has given drivers the ability to reap all of the benefits of having a truck without having to deal with the downsides of a full-size pickup, namely the woeful fuel economy, immense size, and disappointing driving dynamics. While drivers have multiple midsize trucks to explore, those looking to be cocooned in safety really only have four models to choose from.
The Insurance Institute for Highway Safety put eight small pickup trucks – four models (Nissan Frontier, Chevrolet Colorado, Toyota Tacoma, and GMC Canyon) in two body styles each – through its toughest test, the small overlap front test, which replicates an incident where the front corner of a vehicle collides with a tree, utility pole, or another vehicle at a speed of 40 miles per hour. Following the crash, IIHS rated the structure, restraints, and the potential for injury. Only four of the eight trucks earned a rating of "Good," which is the best possible outcome.
Four doors seems like a prerequisite to a safe small truck – the most capacious versions of the Toyota Tacoma, Chevrolet Colorado, and GMC Canyon scored best. The smaller Toyota Tacoma Access Cab, which replaces the full-size rear doors with half doors also earned top marks. However, General Motors' equivalent of Toyota's access cab, the extended cab, only earned an "Acceptable" rating. Unsurprisingly, the ancient Nissan Frontier received a "Marginal" rating the small overlap front crash test, regardless of body style.
While half of the small pickup trucks that were tested received the best rating in the IIHS' toughest crash test, all eight trucks received dismal headlight scores, while only one truck, the GMC Canyon, has crash-prevention technology – it was rated at "Basic." Based on these failings, there isn't a single mid-size truck on the market that would qualify for an IIHS Top Safety Pick award.