Acura has made all of us wait nearly a year before sharing all of the 2021 TLX Type S sedan's specs. The last piece of the puzzle that we've been waiting for is the sporty sedan's starting price. We have good news to share, because the TLX Type S will start at $53,325 with destination when it goes on sale before the end of June.
As usual, the TLX Type S will continue to be a value-oriented option in the field of sport sedans. Compared to the Audi S4 ($50,945), BMW M340i xDrive ($57,695), Mercedes-Benz AMG C43 ($57,550), Kia Stinger GT1 with all-wheel drive ($46,395), and Cadillac CT5-V ($48,990), the TLX Type S is in the same ballpark. The S4 and CT5-V are noticeably more affordable than the TLX Type S, with the M340i xDrive and AMG C43 costing a lot more. The Stinger continues to be a bargain-basement sports sedan.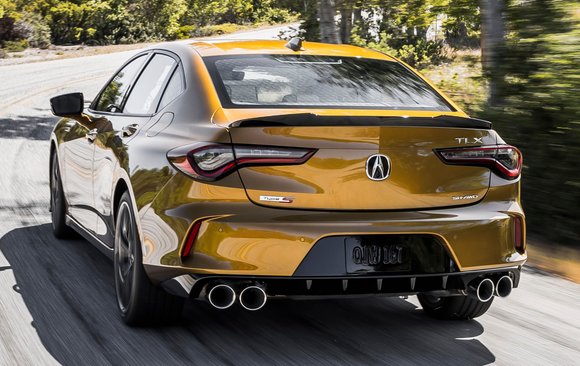 Over the regular TLX, the sporty Type S model is an extra $14,800. That's a large increase in pricing, but the Type S brings a large boost in performance. The Type S comes with a turbocharged 3.0-liter V6 that makes 355 horsepower, which is 83 hp more than the base TLX's turbocharged four-cylinder engine. Additionally, the Type S comes with a standard all-wheel-drive system, adaptive suspension, Brembo brakes, 20-inch wheels, a unique Sport+ drive mode, high-performance Pirelli tires, and a tuned 10-speed automatic transmission. The regular TLX is a peppy sedan, but the Type S specifically focuses on bringing much more performance to the table.
While the TLX Type S isn't the most affordable sporty sedan on sale, it still offers good value. The sedan comes with a 10.2-inch infotainment screen, Milano leather upholstery with Ultrasuede inserts, and a 17-speaker ELS audio system, and ambient interior lighting on top of all of its performance features as standard. Acura will offer the TLX Type S with a High Performance Wheel and Tire Package, which is the only major option with the sedan, that brings NSX-inspired wheels and Pirelli P-Zero summer tires. The package costs $800, but is categorized as a separate trim level that's priced at $54,125. For consumers that are seeking the sportiest TLX Type S available, the High-Performance Wheel and Tire Package is money well spent.
Consumers interested in purchasing a TLX Type S will have to wait until June 23. Originally, the sporty sedan was supposed to come out before the end of May, but Acura has pushed back the sedan's on-sale date. The automaker didn't provide any details on why the TLX Type S is arriving later than first reported, but an extra month isn't too bad of a wait.