Consumers in California and Washington won't be able to purchase the 2021 Chevrolet Camaro SS or the ZL1 next year. The V8-powered performance sports cars have been banned in the two states. While one would think it's because of emissions-related issues, that's not the case. Instead, Chevrolet's popular sports cars have been banned because of their brake pads. More specifically, as GM Authority reports, it's because of the copper in the brake pads.
As the outlet points out, the ban is related to the copper brake pads found on the 2021 Camaro SS, 2SS, ZL1, and ZL1 1LE. California and Washington have restrictions on copper brake pads, leaving consumers that want to purchase one of these models in these two states out of luck.
"Due to restrictions in California and Washington state related to copper brake pads, customers in those states cannot order a 2021 Camaro SS, ZL1 and 1LE for delivery after January 1, 2021," Kevin Kelly, Senior Manager at General Motors, told the outlet. "Customers can, however, purchase these models from available dealer stock in those states."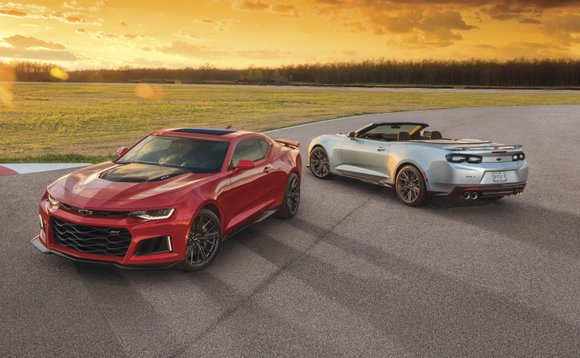 While that's bad news for Chevrolet consumers, the automaker has a fix in mind for the 2022 model year. The sports cars that come with copper brake pads will get new brake systems for 2022 that will be "compliant with the copper requirements" in the two states, claims Kelly. The ban goes into effect on January 1, 2021, so if you can find a model on a dealer lot, you can legally purchase it. You can also go into a neighboring state to purchase a model, if you really want to.
The law that's stopping Chevy's sports cars from being sold in the U.S. in California was passed under Governor Arnold Schwarzenegger 10 years ago. Back then, the law was focused on reducing toxins from entering the state's water supply. Brakes pads with trace amounts of heavy metals and asbestos were targeted in 2014, while the law is expanding in 2021 to include brake pads that have more than 5% copper. By 2025, the law bans all copper from brake pads. Washington followed California's footsteps with similar laws eight years ago.
All of the Camaro models that are banned in the states come with high-performance Brembo brakes at both ends of the vehicle. Copper is used for brakes in sports cars like the Camaro because it dissipates heat well, meaning less brake fade and overheating.
While this is a large inconvenience for consumers and a pretty large blow for Chevrolet, as getting a V8 in a Camaro is a popular choice, it's only for one model year. And Chevy already has a fix in mind. If you're wondering why Ford and FCA's high-performance vehicles, which also use Brembo brakes, weren't affected by a ban, that's something we're wondering, as well. It seems like Chevrolet's immediate rivals were proactive about ensuring their brake pads met the necessary copper requirements before it introduced 2021 models.