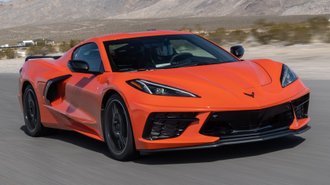 The Chevrolet Corvette has always been seen as a performance bargain on the market, carrying a sports car price tag, while offering near supercar levels of performance. Even the mid-engine C8 Corvette retained the bargain pricing with a sub-$60,000 price tag. Unfortunately, it looks like Chevrolet is increasing the price of the C8 Corvette for the 2021 model year, pushing the vehicle past the $60,000 mark.
Corvette Action Center first reported the news, with Chevrolet confirming the price change shortly after. Pricing for the 2021 Chevrolet Corvette will start at $60,995 including destination, an increase of $1,000 from before.
"The MSRP of the 2021 Chevrolet Corvette Stingray coupe and convertible at all trim levels will increase by $1,000 beginning March 1. Customers who have event code 1100 sold orders and beyond by March 2 will not be impacted by the price increase on the 2021 Corvette Stingray. We monitor and adjust pricing on all our products regularly, and we're confident the Corvette remains a winning formula of performance and attainability," stated Chevrolet in a statement to the outlet.
Price changes are common in the industry and amid the COVID-19 pandemic and semiconductor shortage, it seems like automakers are requiring that consumers pay more for fluctuating supplies, the availability of parts, and shortages. Chevrolet didn't provide any information on why it increased the Corvette's pricing, but there are a variety of factors that could have gone into the decision.
We hardly doubt consumers looking into purchasing a new Corvette will be affected by a $1,000 change in pricing. Even with the increase in pricing, the C8 Corvette is still one of the more affordable high-performance sports cars on the market. The Porsche 911 ($100,550), Jaguar F-Type ($62,750), Lexus LC ($94,075), and Nissan GT-R ($115,335) all cost more. The few sports cars that cost less than the C8 Corvette include the Toyota GR Supra 3.0 ($51,985) and the Audi TTS ($60,545), though those vehicles don't offer the same level of performance. So, even at $60,995, consumers are getting a great deal.
For consumers that have already had their orders entered into GM's Order Workbench system at status code 1100, Corvette Action Center claims that prices are believed to be locked in place. So, early birds will still be able to get their C8 Corvettes for $59,995. The official price increase will go into effect after March 2.