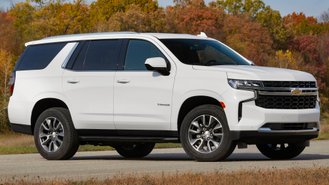 Getting decent fuel economy figures from a large SUV is a losing battle. There's nothing efficient about massive brick-shaped SUVs with seating for up to nine. But Chevrolet's looking to change that with the newly available diesel engine in the 2021 Tahoe and 2021 Suburban. The EPA released its official fuel economy figures for the large SUVs and the diesel powertrain is the most efficient of the bunch.
With the turbocharged 3.0-liter 6-cylinder diesel engine, a 10-speed automatic transmission, and rear-wheel drive, the Tahoe is rated at up to 24 mpg combined and the Suburban can get up to 23 mpg combined. For large SUVs, those are excellent figures. As a point of reference, the 5.3-liter V8 engine with the same transmission and rear-wheel drive is rated at up to 18 mpg combined in both large SUVs. The diesel is also more efficient than the available 6.2-liter V8 engine, which carries up to a 17 mpg combined rating in both SUVs.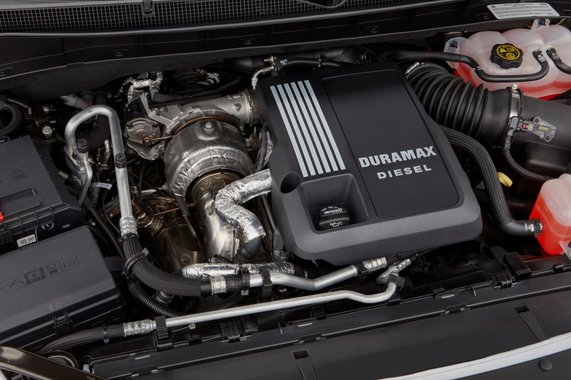 Even more shockingly, the new diesel engine matches and bests some gasoline-powered motors in some of Chevy's other SUVs. The Blazer's standard 2.5-liter four-cylinder engine is rated at up to 23 mpg combined. Those figures are for a model with front-wheel drive. The Traverse's 3.6-liter V6 engine has a 21 mpg combined figure. If you think about the sheer size of the Tahoe and Suburban and the kind of power the diesel engine is putting out, it's fuel economy figures are incredibly impressive.
Chevrolet hasn't published official pricing information on the diesel engine for the two SUVs yet, but it certainly looks like an appealing engine, especially for consumers that expect to spend a lot of time on the highway. The diesel isn't bad around town when it comes to fuel economy, but the gap it has over the V8 engines in the lineup is staggering. The diesel can't match the standard 5.3-liter V8 when it comes to horsepower (277 hp for the diesel compared to 355 with the V8), but it offers 77 more pound-feet of torque.
Against the competition, the Tahoe and Suburban have some of the best fuel economy figures in the class. The Expedition is rated to get up to 19 mpg combined, the Armada is rated at up to 16 mpg combined, and the Sequoia has a combined rating of 15 mpg combined. We're still waiting to hear fuel-economy figures for the four-wheel-drive versions of Chevy's large SUVs but, the diesel engine appears to be the champ in the class when it comes to fuel economy.