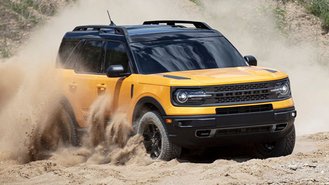 While we've seen the 2021 Ford Bronco Sport in its entirety, there's one thing we've been waiting for: official fuel economy figures. The wait's finally over, as the EPA has released its official figures for the baby off-roader.
As a refresher, the standard powertrain in the Bronco Sport is a turbocharged 1.5-liter three-cylinder engine that's paired to an eight-speed automatic transmission. All-wheel drive is standard with the engine. Output is rated at 181 horsepower and 190 pound-feet of torque. With the base engine, the Bronco Sport is rated to get up to 26 mpg combined.
A more powerful turbocharged 2.0-liter four-cylinder engine is also available. The larger engine produces 245 hp and 275 lb-ft of torque. Just like the smaller engine, the 2.0-liter comes with an eight-speed automatic transmission and all-wheel drive. The 2.0-liter powertrain is rated by the EPA to get up to 23 mpg combined.
A 3 mpg difference between the two powertrains isn't a massive gap and we don't see it being a reason for consumers to stick with the base powertrain. If anything, we expect pricing to play a larger role in choosing between the two powertrains. The Base and Big Bend trims come with the more efficient 1.5-liter three-cylinder engine, while the Outer Banks is the first one in the lineup to come with the 2.0-liter four-cylinder engine. The Base trim costs $28,155, the Big Bend starts at $29,655, and the Outer Banks costs $33,655.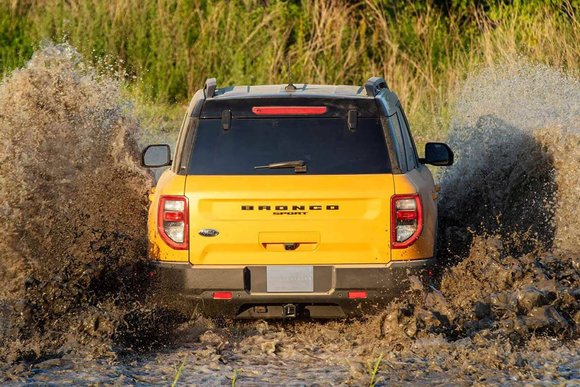 The major issue with the Bronco Sport is its fuel economy compared to the competition. The Escape, which is the Bronco Sport's cousin, comes with a similar powertrain and is rated to get up to 28 mpg with all-wheel drive. With four-wheel drive, the Jeep Compass gets 25 mpg combined, while the smaller Renegade has a 26-mpg combined rating. With standard all-wheel drive, the Subaru Crosstrek is rated at 30 mpg combined.
The majority of mainstream options in the compact segment – the Honda CR-V (29 mpg combined), Toyota RAV4 (30 mpg combined), Mazda CX-5 (26 mpg combined), Nissan Rogue (29 mpg combined), and Subaru Forester (29 mpg combined) – get better fuel economy when equipped with all-wheel drive over the Bronco Sport. Since the Bronco Sport is slightly smaller than the average compact SUV, but slightly larger than a subcompact, seeing it get worse fuel economy than the majority of compact SUVs is surprising.
We don't think fuel economy will play a large role for consumers looking to purchase a Bronco Sport. The compact SUV is being marketed as a tiny, civilized off-roader. Consumers shopping for the Bronco Sport, just like with the Bronco, will probably be willing to sacrifice fuel economy for off-roading capability, the SUV's rugged design, and name.