Ford is really pushing the outdoorsy narrative with the all-new Bronco Sport. Shortly after launching the compact SUV, Ford unveiled a few concept versions that showcased a few of the accessories the automaker is offering consumers. While the larger 2021 Bronco is delayed until this summer, the Bronco Sport is on sale now and Ford is looking to capitalize on its small SUV by offering five dealer accessory bundles to give consumers even more options.
The five bundles include Bike, Water, Snow, Camping, and Cargo. The straightforward names give you all of the information you need to know about the bundles, so there are zero surprises. While the packages are catered to different outdoor adventures, all of them have Yakima components, all-weather floor mats, and roof rail cross bars.
The Bike bundle is clearly aimed at bicyclists, as it comes with a Yakima hitch-mounted bike rack and a Yakima roof rack-mounted basket. If kayaking is your thing, the Water bundle is your best option, coming with a Yakima kayak carrier and a Yakima awning. Consumers looking to expand the Bronco Sport's cargo should look at the Cargo bundle, which includes a Yakima 16-cubic-foot roof-mounted cargo box. For skiers and snowboarders, the Snow bundle is the best choice, bringing a Yakima hitch-mounted ski/snowsport rack. Lastly, there's the Camping bundle, which includes a Yakima Skyrise HD two-person rooftop tent and a Yakima awning.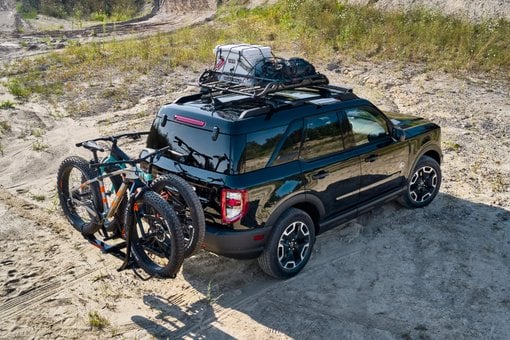 Ford hasn't said anything about pricing, but we're sure these bundles won't be cheap. On its own, a Yakima Skyrise HD tent costs roughly $1,900, while the bike rack costs approximately $320. There is some good news, as consumers that want a bundle but find that none of these fit the bill can create their own bundles by choosing from over 100 available accessories. So, pricing can vary drastically depending on what accessories you choose. Since these are all installed at the dealership, consumers can roll these options directly into their loan.
For consumers, being able to customize their Bronco Sport is one of the major benefits of the compact SUV. Few SUVs on the market offer the same level of customization as the Bronco Sport, as Jeep is the only automaker that has the same type of off-roading and lifestyle accessories as Ford. But even Jeep doesn't offer pre-made bundles for its off-roaders. Jeep does offer a few trims that come with extra goodies than lower ones, but most of the accessories are available as optional extras.
We expect Ford to offer similar bundles on the larger Bronco SUV, as the automaker plans to offer a similar amount of accessories on the midsize SUV. If anything, we expect the Bronco to come with even more off-roading accessories, as consumers are expected to spend more time off-roading and exploring the outdoors in that SUV compared to the smaller Bronco Sport.