Heading into 2021, the Honda Civic Type R will have a higher starting price tag as a dealer pricing guide reveals that the sporty hatchback will get a $400 price increase. The Type R isn't the only 2021 Honda vehicle receiving a price increase as a majority of the lineup sees prices go up between $200 and $300. Additionally, destination prices have also increased $40 for cars and $55 for crossovers, trucks, and minivans.
Previously starting at $38,450 (including a $955 destination fee), pricing for the Civic Type R Touring will now start at $38,890 (including the increased destination fee of $995). Although MSRP has increased by $400, including the $40 destination fee hike leads to a total increase of $440. The Limited trim isn't affected by the MSRP change and will continue to start at $44,990, including the $995 destination fee.
Mid-year price adjustments aren't unusual for Honda. For the past few years, Honda has consistently increased its MSRPs by a couple of hundred dollars at the beginning of the new year, as well as modest changes to destination fees. However, a $400 increase is a bit more aggressive than what we've seen in recent years.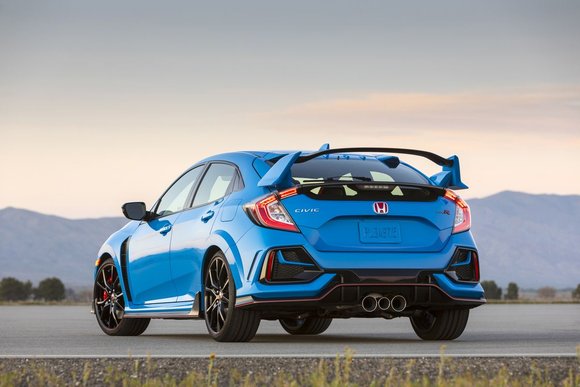 Unfortunately, the price increase doesn't bring any new equipment or performance for the Type R. It will continue to come with a 2.0-liter turbocharged engine good for 306 horsepower and 295 lb-ft of torque paired to a 6-speed manual transmission. An automatic option is not available. It will also continue on with a comprehensive list of safety features with the Honda Sensing suite.
With the price increase, the Type R remains one of the most expensive options in its class. Options like the 2021 Volkswagen GTI ($29,690) and the 2021 Hyundai Veloster N ($33,245) are significantly cheaper but also have much lower performance numbers. Both are available in automatic configurations for an extra cost of $800 and $1,500, respectively. Even the 2021 Subaru WRX STI ($38,170) is cheaper despite having slightly more power and coming with standard all-wheel drive. The STI comes solely with a manual transmission.
Other vehicles included in the price adjustment are the 2021 Civic sedan and hatchback, Insight, Accord and Accord Hybrid, HR-V, and Passport which see a $200 increase, and the Pilot which gets a $300 increase. Shoppers should note that the Civic is going through a complete redesign for the 2022 model year and is set to arrive in late spring.