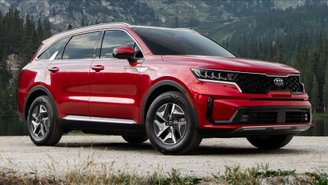 Buyers looking to purchase the all-new 2021 Kia Sorento may be surprised to hear that pricing for the midsize SUV starts at $30,560 with destination. That's an increase of $2,450 from last year. And, if you're looking to purchase the new Sorento Hybrid, you'll have to dig a little further into your bank account, because the more efficient powertrain is an additional $4,200 over the entry-level Sorento.
Pricing for the 2021 Sorento Hybrid starts at $34,760 for the S trim and $37,760 for the EX. Over the regular Sorento, which is offered in an LX trim, the hybrid powertrain is an extra $4,200. If you compare the Sorento S against the Sorento Hybrid S, you're looking at a more manageable $1,700. The Sorento Hybrid EX is an additional $1,600 over the regular Sorento EX.
Over the regular Sorento, the Sorento Hybrid brings incredible gains in fuel economy. With its turbocharged 1.6-liter four-cylinder engine that's paired with an electric motor, the Sorento Hybrid is rated to get up to 37 mpg combined. That's a dramatic increase of 9 mpg compared to the regular Sorento's combined fuel economy rating. The Sorento Hybrid, though, is only available with front-wheel drive and makes 54 less horsepower.
This is the first time we've seen Kia utilize a hybrid powertrain in the Sorento and it's impressive to see the results. The Toyota Venza is the only midsize SUV that's more efficient than the Sorento Hybrid, carrying a combined fuel economy rating of 39 mpg. The Venza also comes with all-wheel drive, which makes its fuel economy rating all that more impressive.
The Toyota Highlander Hybrid, which is a more direct competitor to the Sorento Hybrid, gets 36 mpg combined. The Lexus RX 450h gets 30 mpg combined, the Ford Explorer Hybrid is rated at 28 mpg combined, and the Acura MDX Sport Hybrid can get up to 27 mpg combined.
Considering the impressive fuel economy rating, we'd say the Sorento Hybrid is well worth the extra money if you're not interested in performance. If you're looking for even better fuel economy or have access to a charger, Kia is expected to introduce a plug-in hybrid powertrain for the Sorento shortly.