While CEO's and wealthy executives were able to purchase a Mercedes-Benz S-Class for less than six figures last year, that won't be the case for the all-new model. The fully redesigned 2021 Mercedes-Benz S-Class arrives with a starting price tag of $110,850 including destination. That's for the entry-level S500 4Matic sedan. If that figure sounds absurdly high, it's because it is. Last year, the S-Class started at $95,245, which means pricing has gone up by an eye-watering $15,605.
Even for a full redesign, which the S-Class received for the 2021 model year, a $15,000 increase in pricing is abnormal. Sure, Mercedes has changed a lot on the sedan and it's calling the vehicle the "most advanced sedan" the company has ever made. But that's a lot of money for a vehicle that competes in a segment that isn't as popular as it once was. Still, shoppers that have the funds to purchase the new S-Class will be impressed.
The S-Class gets a new standard engine for 2021. Power now comes from a turbocharged 3.0-liter inline-six engine that makes 429 horsepower and 384 pound-feet of torque. Mercedes' EQ Boost mild-hybrid system is included with the engine and is good for an additional 21 hp and 184 lb-ft of torque. The new engine is much more powerful than last year's base V6, which was rated at 362 hp and 369 lb-ft of torque. Additionally, the new S-Class comes with all-wheel drive as standard. Previously, it was a $3,000 option on the base trim.
The available turbocharged 4.0-liter V8 now comes with a mild-hybrid system as standard equipment, too. It's found in the S580 4Matic and produces 496 hp and 516 lb-ft of torque, which is an increase of 33 hp from last year's engine. The S580 starts at $117,350.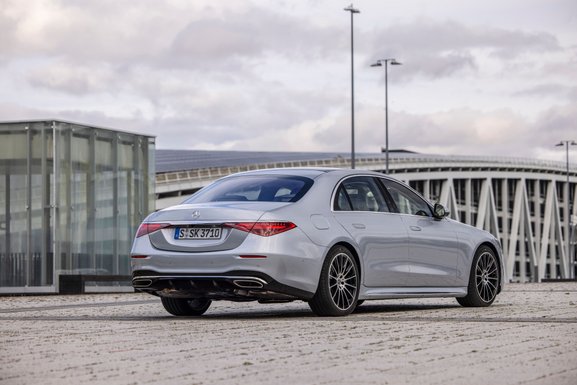 Beyond the updated powertrains, the S-Class now packs a dizzying amount of technology. Even the base S500 comes with a 12.8-inch central touchscreen with Mercedes' latest MBUX infotainment system that has 50% more processing power, active ambient lighting that works alongside the driver-assist and infotainment systems, a lengthy list of standard safety features, and 10 massaging programs for the front seats. Those are just a few of the standard features on the new sedan.
The vehicle's list of safety features is especially noteworthy, as the sedan comes with a 360-degree camera, a new 3D View Assist feature for tight parking spots, adaptive cruise control, and what sounds to be lane keeping assist. Mercedes' new rear-seat airbag will be available as an option.
As we've come to expect from Mercedes, the S-Class will have a variety of optional high-end features. A Burmester 4D surround-audio system, an augmented reality head-up display, a 3D gauge cluster, two rear 11.6-inch touchscreens, a 7-inch removable tablet, massaging rear seats, and a wireless charging pad for passengers in the back are all optional. If you go with the range-topping S580 4Matic Executive Line, which comes with all of these features as standard, you're looking at spending $132,500.
While we're still waiting to see a full breakdown of standard and optional features on the S-Class, we're surprised by how expensive the new S-Class is. Based on initial impressions, it certainly looks like it's worth the extra money. The S-Class has always been the primary vehicle for Mercedes to showcase just how luxurious and high-tech its vehicles can be. Mercedes may have priced the new S-Class well above the BMW 7-Series and the Audi A8 L, but they're not as powerful or as tech-forward. Additionally, we're sure the S-Class will continue to have one of the more opulent ride qualities in the class.
Mercedes is expected to showcase the even more expensive Mercedes-Maybach S-Class soon. With the regular S-Class going up by $15,000, we're sure the Mercedes-Maybach S-Class will get a similar increase in pricing. The 2021 S-Class isn't the automaker's flagship sedan, that title belongs to the even more ridiculously expensive Maybach-badged vehicle, but it has the credentials of a flagship model.