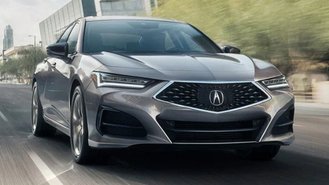 With the confirmed death of the subcompact Acura ILX, the new gateway into the world of Acuras is the sporty TLX until the new Integra comes out. Unfortunately, getting into a 2022 TLX just got a little more expensive, as pricing for the sedan has gone up.
A bulletin sent out to dealers reveals that the 2022 TLX got a mid-year price increase of up to $800. Acura's online configurator for the 2022 model year reflects the new changes. Pricing for the base TLX now starts at $38,500 (prices don't include destination), which represents an increase of $800 from earlier this January when the sedan started at $37,700. The price increases vary by trim, as the range-topping Type S has increased by $500, now starting at $53,300 instead of $52,800. The price changes for the 2022 model went into effect at the beginning of March.
It's not abnormal to see automakers raise prices for vehicles throughout the year. This price increase for the 2022 Acura TLX also makes sense, as the sporty sedan didn't get one earlier this January when the majority of the brand's other vehicles did. At the beginning of the year, Acura raised the price of the ILX, RDX, and MDX by $800.
While an $800 increase may not seem like a lot, the change will affect the TLX's lease deals. Before the price increase, the TLX already had incredibly high monthly lease payments. A higher starting price tag will see the TLX's effective monthly cost increase slightly.
See the Latest Acura Deals & Incentives
Pictured: 2022 Acura TLX