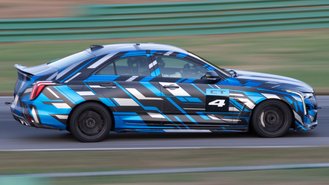 Reservations are becoming the new norm for highly-anticipated vehicles. Following Cadillac's live stream on February 1, when the luxury brand will unveil the new CT4-V Blackwing and CT5-V Blackwing, consumers will be able to reserve one of 500 total models with a $1,000 deposit. Once the reservations are full, consumers are at the mercy of a waiting list. Cadillac claims the two Blackwing models will be available in limited quantities in late summer 2021.
After the live stream, at 7:30 p.m. ET, Cadillac's website will have a "Reserve Yours" page for both the CT4-V and CT5-V Blackwing models. With only 250 units of each vehicle expected to be built, we're sure reservations will fill up quickly. Cadillac's reservation total for the two vehicles is one of the lowest we've seen recently. The Ford Bronco First Edition was offered with 3,500 reservation slots. The deposit is refundable, but this is the best way to actually get a few of Cadillac's hottest vehicles. After the first group of vehicles are accounted for, consumers will be redirected to a waiting list.
Consumers that reserve a model and eventually purchase a vehicle will get a CT4-V or CT5-V Blackwing model with a serialized plate, a performance steering wheel, and a two-day driving course at the automaker's V-Series Academy in Nevada. Those are nice perks for being early.
While Cadillac has revealed that both models will be available with manual transmissions, not much else is known about the two Blackwing models. Unlike the regular CT4 and CT5, as well as the sportier CT4-V and CT5-V, the Blackwing models will offer far more performance. Journalists and enthusiasts were disappointed when Cadillac unveiled the CT4-V and CT5-V, as those two vehicles didn't live up to the V nameplate. While we're not sure what kind of engines the performance vehicles will use, the Blackwing models are expected to be far more powerful and offer track-ready performance.
We expect the CT4-V to be powered by a twin-turbocharged V6 engine, while the CT5-V will employ a supercharged V8 engine. A 10-speed automatic transmission and a six-speed manual transmission are expected to be available.
Cadillac originally came up with the Blackwing name for the twin-turbocharged 4.2-liter V8 engine found in the CT6-V. Unfortunately, the CT6-V was the only vehicle in Cadillac's lineup to be offered with the Blackwing engine. While the engine died roughly a year after it was introduced, Cadillac decided to keep the name for its high-performance vehicles.