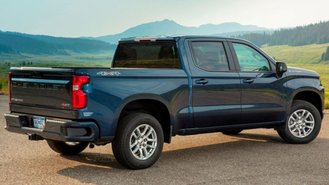 Chevy will temporarily rename its flagship truck the "Silverado LTD" prior to next spring's launch of the revamped 2022 Silverado. In what could end up being immensely confusing for prospective truck buyers, a closer look finds that the brand will actually sell both as 2022-model-year vehicles at dealerships.
Based on data derived from Chevy's latest order guide, 2022 Silverado 1500 LTD prices will start at $31,595 after a $1,695 destination charge. That gets you a Regular Cab 4x2 Work Truck with a 310-hp 2.7L turbo and is $600 more than the cheapest 2021 Silverado ($30,995), which comes with a 285-hp 4.3L V6.
Although we don't have prices yet for the reengineered 2022 Silverado (including the upcoming ZR2 variant), we think there's a strong chance that it'll be more expensive. While Chevy does have a track record of selling outgoing models alongside their redesigned counterparts, this instance is quite a bit different.
Back in 2019, Chevy introduced a new Silverado but continued selling the old one as the Silverado 1500 LD. At the time, the LD was limited to just a Double Cab configuration. In contrast, the 2022 Silverado LTD will be offered in a full range of cab types: Regular, Double, and Crew. You'll also see a lot more trim choices.
In the case of the LD, Chevy offered Work Truck, Custom, and LT trims. When it comes to the LTD, shoppers will find a far greater selection from the entry-level Work Truck all the way up to the range-topping High Country. In that sense, it's very much a continuation of the current Silverado until the new one arrives.
Timing will undoubtedly play an important role in Chevy's strategy assuming it can convince buyers that the 2022 Silverado is really worth waiting for. It's also worth considering that, as we found with the Silverado LD, Chevy may end up introducing totally different incentives for buying & leasing the LTD and new Silverado.
In what could be a worst-case scenario, shoppers may encounter a situation in which they're able to choose a 2021 Silverado, a 2022 Silverado LTD, and a 2022 Silverado, all with different price tags and incentives. We can't predict what will end up happening, but we did see cases resembling this back in 2019.
The prospect of offering two trucks at the same time could complicate matters for competitors like Ford. If Chevy manages to undercut rivals and serve a broader range of buyers, it could enable the brand to reach more customers during a period in which an inventory shortage has made finding the right truck difficult.
This Month's Cheapest Truck Leases
Pictured: 2021 Silverado 1500