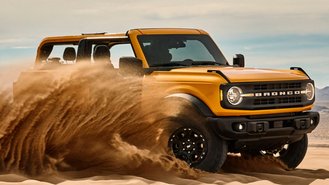 The unbelievably popular Ford Bronco is getting a very believable price increase for 2022. Based on the brand's latest pricing guide, the 2022 Bronco will be up to $800 more expensive than the current SUV. However, a closer look finds that 2-door Broncos will see the biggest price hikes when compared to 4-door styles.
At the entry-level, the 2022 Bronco Base 2-door is listed at $30,795 including a destination charge of $1,495. That's $800 more than the previous MSRP of $29,995. Interestingly, the cheapest 4-door Bronco has been priced from $34,945, which is just $250 more expensive than the current model's sticker price of $34,695.
In fact, just about every 2-door Bronco will see a price hike of $400. That's 60% more than the relatively modest $250 increase on corresponding 4-doors. Apart from the base trim, the 2-door Wildtrak is the only exception, with an $800 increase from $48,475 to $49,275. The 4-door Wildtrak remains unchanged at $50,970.
Given the fact that the Bronco remains one of the hottest SUVs on the market, a price increase certainly seems justified. Having said that, production problems and an incredible backlog of orders have also made it one of the most unattainable vehicles. The company halted online Bronco reservations nearly 2 months ago.
That could be disappointing considering the Bronco was recently declared one of the "most American" production vehicles. If you're hoping to place an order for one now, it appears highly likely that buyers will be in for an extended wait for their Bronco and may have to contend with the possibility of significant dealer markups.
Ford recently implemented a Bronco name-match policy to get its dealers to put more vehicles into the hands of actual reservation-holders. In a bizarre-sounding move, the company also began compensating buyers by offering up to $1,000 toward gifts ranging from complimentary scheduled maintenance to free bourbon.