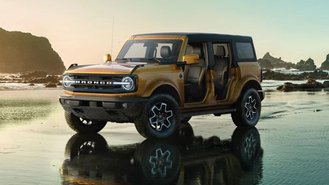 A leaked official order guide from earlier this September revealed the Ford was working on coming out with a Bronco Raptor and Bronco Everglades for the 2022 model year. While we have an idea of what the Raptor will include, the Everglades is a mystery. Mike Levine, Ford North American Product Communications Director, took to Twitter to provide some more information on the upcoming SUV.
Levine's tweet was light on information but stated that the Everglades trim will feature a factory-installed winch and snorkel. Additionally, we know that the SUV will go on sale in summer 2022. Beyond these tidbits of information, everything else is left up to the imagination.
Ford currently offers a Warn winch as an option on the Bronco for $3,500. It's rated to pull 10,000 pounds, offers wireless remote controls, and was co-developed by Ford. The winch is only available with the OE Modular Front Bumper and cannot be paired with Lo-Series headlights or adaptive cruise control. Without any information, Ford could fit the same exact winch on the Everglades trim at the factory instead of offering it as an accessory that can be installed at a dealership.
The snorkel is just as interesting as the winch. Not many cars in the U.S. are sold from the factory with a snorkel. The piece of equipment increases a vehicle's water fording ability as it lets the engine breathe when traversing a sizable body of water. A winch isn't available on any Bronco trim that Ford currently offers, so it could be an exclusive for the Everglades trim.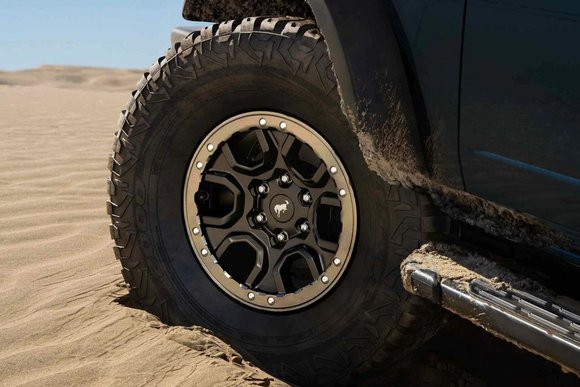 Other than that, we don't know a lot about the upcoming Everglades trim. We expect the Sasquatch package to be optional, bringing Bilstein shocks, 35-inch mud-terrain tires, 17-inch deadlock-capable wheels, and locking differentials. In terms of pricing, we expect the Everglades to sit below the upcoming Raptor and above the Wildtrak. Pricing for the latter starts at $48,475 with destination.
While the upcoming Bronco Raptor and Everglades sound like exciting trims, the rugged SUV continues to be difficult to find. The vehicle has been affected by production delays because of the COVID-19 pandemic, semiconductor chip shortage, and supplier issues with the modular roof option. Because of these issues and the insane number of reservations Ford received for the model, the automaker has been slow to deliver Broncos to buyers.
Last month, reports indicated that production of the Bronco will be limited next year, meaning that consumers are looking at waiting a very long time for their SUV. The addition of a new Raptor and Everglades trim won't help Ford's situation, as those trims could draw even more orders.
See Our Overview of the 2021 Ford Bronco
Pictured: 2021 Ford Bronco