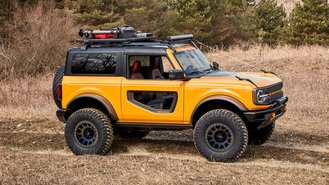 Thanks to trademark filings, Easter eggs, and photos of prototypes out in the world testing, we've known that Ford has been working on a high-performance Bronco. Because of trademark filings, we thought the high-performance Bronco would be called the Warthog. According to a report by Ford Authority, the upcoming performance-oriented Bronco will be called the Bronco Raptor and come with a turbocharged 3.0-liter V6 engine. Additionally, the outlet has confirmed that the 2022 Bronco Raptor is in Ford's ordering system.
The outlet claims that the high-performance SUV will be available in two trims: a base version and one with a Lux Package. The latter is currently available on the regular Bronco and brings things like adaptive cruise control, a heated steering wheel, a 10-speaker B&O audio system, and a wireless charging pad. Other details on the SUV aren't available, but the ordering guide reveals that it will be available as a four-door model and be offered in a Code Orange paint scheme. That paint job has been exclusive to the F-150 Raptor.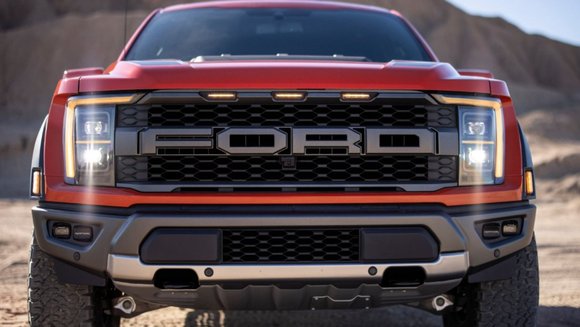 Like other high-performance Fords with a Raptor badge, the Bronco Raptor is expected to come with Fox shocks, 17-inch off-road wheels, BFGoodrich all-terrain tires, unique front and rear bumpers, and more ground clearance over the regular SUV. Like other Raptor models, we expect the Bronco to come with a front grille with the word "FORD" stamped on it.
While there's no information on the Bronco Raptor's engine, Ford Authority claims the SUV will come with a turbocharged 3.0-liter V6 engine. The Ford Explorer ST comes with a 400-horsepower version of the V6 engine that's paired with a 10-speed automatic transmission. It's possible that Ford uses the same engine as the Bronco Raptor, but it could be tuned to make more power.
The 2022 Bronco Raptor will join the regular 2022 Bronco, which arrives with two new exterior colors: Eruption Green and Hot Pepper Red Metallic. The SUV also receives a new Capable front bumper, an available roof rack for four-door Broncos with the Sasquatch package, and a manual transmission option for Broncos with the Sasquatch package.