The semiconductor chip shortage has forced automakers to become creative to find ways to continue selling cars without having the necessary amount of chips. For the 2022 Bronco, Ford will reportedly be dropping the optional navigation system next month.
The outlet, citing unnamed sources that are familiar with the matter, states that 2022 Ford Broncos built after May 2 will not be available with a factory navigation system. Navigation is currently offered on the Big Bend, Black Diamond, and Badlands trims with the Mid Package. When properly equipped, navigation is standard on the Badlands, Outer Banks, and Wildtrak trims.
Ford Authority reports that the change has an official 59D order code, which stands for "Navigation Removal." Even with the official order code that's mandatory, this sounds like it will be a temporary thing to keep Bronco production going. Once Ford has a good amount of semiconductor chips, we expect navigation to become available with navigation again.
Unfortunately, the outlet states that Ford won't be able to add navigation to models that are already built. Previously, the automaker removed rear-seat climate controls and Active Park Assist 2.0 on a few vehicles with the intent to add them back down the road. This reportedly won't be the case with navigation in the Bronco.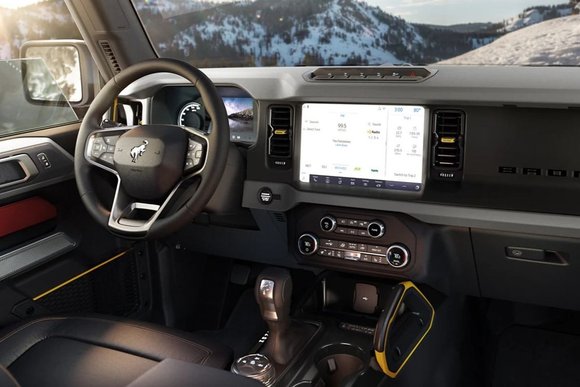 After the original report from Ford Authority, Carscoops reached out to a Ford spokesperson, who stated that Ford will continue to be building 2022 Broncos with navigation. So, it's best to take Ford Authority's report as an unofficial report. But it certainly sounds like something Ford would do to keep production of the 2022 Bronco humming.
With the Bronco coming with Apple CarPlay and Android Auto as standard equipment, we don't see the removal of navigation as being a huge issue for consumers. We believe that the majority of people tend to use smartphone compatibility on vehicles that have the feature because it's familiar to what they're used to seeing with their phone and tend to be easier to use than an automaker's native infotainment system.
Ford isn't the only automaker making changes to feature content to keep production going. Genesis, BMW, Cadillac, Chevrolet, Mercedes-Benz, Nissan, Porsche, and Tesla, have all had to cut features from their respective vehicles because of the chip shortage.
Check Out Ford Bronco Prices Near You
Pictured: 2022 Ford Bronco