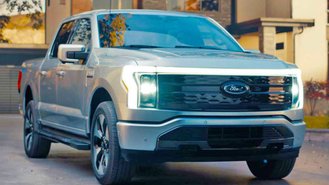 Ford has closed order books for the 2022 F-150 Lightning pickup days ahead of the EV's planned launch. The move comes after retail orders stopped for the cheapest F-150 Lightning configurations and mere weeks after orders for the popular Mustang Mach-E electric vehicle sold out and ended back on April 8th.
While Ford's website will still let consumers build and price the 2022 F-150 Lightning, a small blurb of text reads "Due to high demand, the current model year is no longer available for retail order," adding that shoppers should contact their local dealer for more info. The truck's official launch date is set for April 26th.
According to a sales representative at Galpin Ford — one of the nation's largest Ford dealers — order books have indeed closed for all versions of the 2022 F-150 Lightning. You can still buy one, but it would have to be an in-stock truck with a price markup. The alternative is to wait for a 2023 or 2024 model-year vehicle.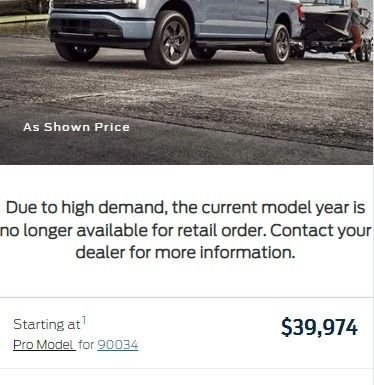 At Galpin, that means choosing between a $5,000 F-150 Lightning markup or having to wait a minimum of 8 to 10 months for a new order. Both of these options could be disappointing to potential buyers who missed their chance to put down an F-150 Lightning reservation much sooner, in some cases nearly a year ago.
The cheapest F-150 Lightning trims were the first to sell out, with Pro and XLT reservations ending recently. Ford stopped taking 2022 Mustang Mach-E orders for the same reason this month — high demand — canceling planned Mach-E price increases and forcing buyers to wait for a 2023 Mach-E or choose an in-stock SUV.
If you want to buy an F-150 Lightning and aren't willing to pay a markup, you could be in for quite a wait. Although Ford has committed to boosting F-150 Lightning production and recently canceled unclaimed Lightning reservations, the odds of being able to get your hands on one anytime soon could be very slim in 2022.
Ford's website says 2023 F-150 Lightning production will begin this fall, with orders set to open this summer. If you're willing to wait, placing an order as soon as possible could entitle you to price protection in the event MSRPs go up down the line. Current F-150 Lightning prices start at $41,769 including destination.
Update as of 4/25/22: Ford spokesperson Emma Bergg confirmed for us late last Friday that order banks for future model years will open this summer, and added that the latest wave of 2022-model-year reservations have until April 29th to order or extend their reservation.