Ford's affordably-priced Maverick pickup is set to receive its first official price increase, according to a bulletin sent today to dealers. In some cases, our analysis finds that certain 2022 Maverick configurations will see a price hike of over $1,000 when the changes take effect on December 27th. Here's a look at what to expect.
At the entry level, the 2022 Maverick will continue to feature a starting price of $21,490 with destination for the XL Hybrid trim. However, the better-equipped XLT will get an $80 price increase, while the Lariat will see the biggest price hike of $370. In addition, certain options and packages will get price increases next week.
For example, the Lariat Luxury Package will get a $410 increase in MSRP while Ford Co-Pilot360 driver assistance tech is getting a $110 price hike. Coupled with a $200 price increase for the Power Moonroof and the increase in MSRP for the Lariat trim, this could result in a combined price increase of up to $1,090.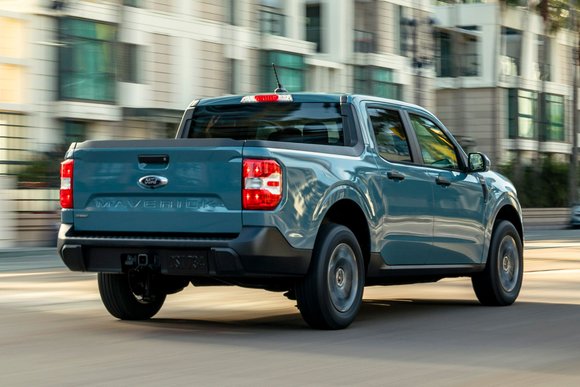 Here's a list of all 2022 Maverick options codes getting a price increase:
43L Power Moonroof (+$200)
86B Ford Co-Pilot360 (+$110)
54P Lariat Luxury Package (+$410)
54L/54B XLT Luxury Package (+$155)
AHNAB Roadside Assistance Kit (+$10)
AHQAB First Aid Kit (+$10)
Mid-year price increases aren't uncommon on cars, but this will be the Maverick's first price hike since its launch this past fall. Interestingly, Ford is simultaneously planning to raise F-150 and Ranger truck prices next week as well. Of those models, the 2022 F-150 will see up to an $880 price increase on most trims.
Earlier this month, Ford already implemented a series of price hikes. For example, the 2022 Bronco Sport prices went up $150, while F-Series Super Duty truck MSRPs increased by $1,295. In the most extreme case, 2022 Mustang Mach-Es became up to $3,000 more expensive when choosing certain configurations.
The Maverick has been an early hit, garnering tens of thousands of reservations. Early Maverick incentives included 0% financing plus a 7-year loan option from Ford Credit. Having said that, Ford recently stopped taking Maverick Hybrid orders and deliveries have reportedly been delayed to the second half of 2022.
If you're looking to avoid a dealer markup on an in-stock truck, your best bet for getting a deal could be a custom order. Ford is continuing to offer a $1,000 bonus on ordered vehicles. The downside is that you could be in for quite a wait and may have to find a dealer willing to sell the truck for no higher than MSRP.