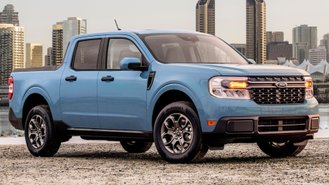 Ford is returning to the compact pickup segment with the 2022 Maverick. An answer to pickup trucks that get larger and more expensive every year, the Maverick arrives with a unibody chassis, a tiny 4.5-foot bed, and a starting price tag of $21,490 with destination. That last part makes the Maverick the most affordable vehicle in Ford's entire lineup. Interestingly, Ford is offering the compact pickup truck with a standard hybrid powertrain.
The Maverick arrives with a compact footprint and a sturdy design. In typical truck fashion, the Maverick's body is boxy and squared off. Despite having a 4.5-foot bed, Ford has packed the Maverick with nifty features to make it just as versatile as larger options. The "Flexbed," as Ford's calling it, has 12 available anchor points, open slots to let owners subdivide the bed with lumber, two 12-volt prewired sources, and two 110-volt outlets.
The rear end of the truck also features a multi-position tailgate, though it looks there are only two available positions. Beyond the normal position, there's a halfway position that allows tailgate lip and wheelhouses to hold up to 18 sheets of 4x8-foot plywood. Ford claims the tailgate is rated to hold up to 500 pounds, while payload capacity is rated at 1,500 pounds.
On the inside, the Maverick features a straightforward design that pickup trucks are known for. The cabin also houses a variety of storage compartments, including a storage space underneath the rear seat, interestingly shaped door panels that can accommodate 1-liter bottles, and large door pockets capable of being used to store a tablet. One of the more interesting features is the brand's Ford Integrated Tether System (FITS) that allows passengers to attach various accessories to an open slot. Ford is working on coming out with new accessories for its FITS system, but owners can also 3D-print their own accessories.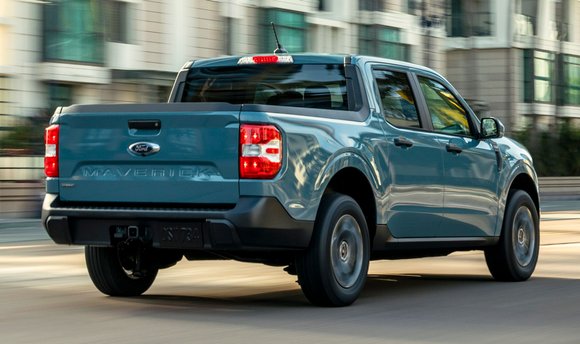 On the tech front, the Maverick comes with an 8-inch touchscreen with Apple CarPlay and Android Auto. Wi-Fi hot spot and FordPass Connect are also standard, allowing up to 10 devices to be connected to the system. Ford Co-Pilot360 is standard, bringing forward collision warning, automatic emergency braking, and automatic high-beam headlights. Optional features include blind spot monitoring, adaptive cruise control, lane keeping assist, and lane departure warning.
Now, onto the really interesting part – the Maverick's powertrain. Every Maverick comes with a hybrid powertrain that consists of 2.5-liter four-cylinder engine and a 94-kW electric motor. A continuously variable automatic transmission and front-wheel drive are also standard. The powertrain makes a combined 191 horsepower and 155 pound-feet of torque. Ford's estimating that the Maverick will get up to 40 mpg combined, which is outrageous for a pickup truck. A turbocharged 2.0-liter four-cylinder is available, making 250 hp and 277 lb-ft of torque. The turbocharged engine comes with an eight-speed automatic and can be equipped with all-wheel drive as an option. With the turbo engine, the Maverick can tow up to 4,000 pounds of cargo.
At $21,490, the Maverick undercuts the Ranger ($26,265) and F-150 ($30,985). Compared to Ford's other pickup trucks, the Maverick is 11.1 inches shorter in length than the Ranger and 32 inches shorter than the F-150. When it comes to towing, the Ranger tops out at 7,500 pounds, while the F-150 is rated to tow 14,000 pounds.
When the Maverick goes on sale, the pickup truck will only have one real competitor – the 2022 Hyundai Santa Cruz. The Hyundai is more of a compact crossover that happens to have a truck bed, while the Maverick is a truck first. Despite the difference, the Santa Cruz is rated to tow up to 5,000 pounds, is available with a 275-horsepower turbo-four engine, can be fitted with a 10.25-inch touchscreen, and has more available tech features. Hyundai isn't offering the Santa Cruz with a hybrid powertrain and the pickup has a disappointing 23 mpg combined fuel economy rating.
Because of its affordable starting price tag, relatively small size, and excellent fuel economy, the Maverick could even draw sales away from compact cars and SUVs. Based on what we know so far, the Maverick looks like it's going to be a massive hit and a great value option, as long as you stick with one of the lower trims. Ford currently has plans to offer the truck in XL, XLT, and Lariat trims. While prices start at $21,490, we expect pricing for a fully-loaded Lariat to top out at around $35,000.

The 2022 Ford Maverick will go on sale this fall. Interested consumers can reserve a model on Ford's website today.