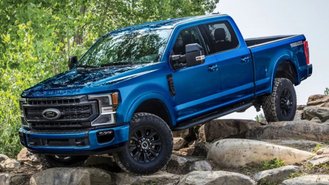 Whether it's because of high demand, the semi-conductor chip shortage, or a combination of the both, Ford has stopped accepting orders for popular vehicles. First, Ford stopped accepting orders for the 2022 Mustang Mach-E, then it was the 2022 F-150 Lightning, and now, it's doing something similar with the 2022 Super Duty.
Ford's website has some bad news for interested Super Duty buyers. "Due to high demand, the current model year is no longer available for retail order," claims the site. "Limited inventory may be available at selected dealers. Contact your dealer for more information."
Over the past few months, we've seen Ford cut production of the Super Duty multiple times. Ford has even cut features from the heavy-duty trucks in an attempt to keep production going. Now, it seems like Ford has finally decided that it's better to stop accepting new orders for the 2022 model year.
This isn't entirely surprising, since Ford has made similar decisions with its other vehicles. Additionally, the Super Duty models (the F-250, F-350, and F-450) have been affected by a few production shutdowns this year. Earlier this February, the Ford Kentucky Truck plant where the Super Duty is built was shut down for a shift. In March, Ford shut production down for an entire week. We also saw Ford add a few delete option packages this year for the multicontour seats and spray-in bedliner.
The 2022 Super Duty joins other Fords including the Mustang Mach-E, Maverick, Bronco, and F-150 Lightning as vehicles that are no longer available to be ordered by customers for the 2022 model year. Consumers may be able to find a few 2022 Super Duty models on sale at dealers, but it's unlikely.
See Ford's Lease Deals & Incentives
Pictured: 2022 Ford F-250 (Top), 2021 Ford F-350 (Middle)