Genesis is finally growing its lineup with a couple of striking SUVs. First, the automaker unveiled the all-new midsize GV80 and now, we're patiently waiting for the compact GV70 to officially go on sale. While we're still waiting, the EPA has released partial ratings for the upcoming 2022 GV70 SUV that helps us compare it to the larger GV80.
With both SUVs sharing the same powertrains, it shouldn't be all that surprising to see that both vehicles have similar fuel economy ratings. With the turbocharged 3.5-liter V6 engine and all-wheel drive, the 2022 GV70 is rated to get 19 mpg in the city, 25 mpg on the highway, and 21 mpg combined. The larger GV80 gets 18 mpg city, 23 mpg hwy, and 20 mpg combined.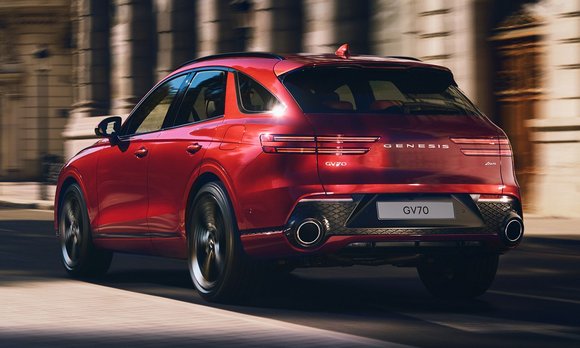 Since the GV70 and the GV80 come with twin-turbocharged 3.5-liter V6 engines that produce 375 horsepower and similar all-wheel-drive systems, there's little reason to believe these SUVs would get drastically different figures. The GV70 is smaller and weighs less than the GV80, which explains why it's slightly more fuel-efficient.
We're still waiting to see official fuel economy figures for the base turbocharged 2.5-liter four-cylinder engine that makes 300 hp. With rear-wheel drive, the engine helps the GV80 get up to 21 mpg city, 25 mpg hwy, and 23 mpg combined. With those figures, we expect the GV70 to get up to 22 mpg combined with the same powertrain.
If that figure holds up, it would make the GV70 less efficient than competitors like the Mercedes-Benz GLC-Class (25 mpg), Audi Q5 (25 mpg), BMW X3 (27 mpg), and Volvo XC60 (25 mpg), which all have better combined fuel economy ratings. The majority of these compact SUVs, though, aren't nearly as powerful as the GV70 and come with front-wheel drive.