Genesis' claim to fame of offering upscale vehicles that are great value options continues with the all-new 2022 GV70. The compact SUV will start at $42,045 including destination. That price undercuts the majority of the competition and makes it a great value option.
With a starting price tag in the $42,000 range, the GV70 costs less than the Mercedes-Benz GLC ($44,250), BMW X3 ($43,995), Audi Q5 ($44,395), and Volvo XC60 ($42,795). Other value-packed options like the Acura RDX ($39,425) and Lexus NX ($38,635) cost less. Still, with standard features that include all-wheel drive, adaptive cruise control, heated front seats, dual-zone climate control, a 12-way power-adjustable driver's seat, a 14.5-inch infotainment screen, an 8-inch digital instrument cluster, fingerprint recognition, and a wireless smartphone charger, we think the GV70 brings a lot for its relatively low starting price tag.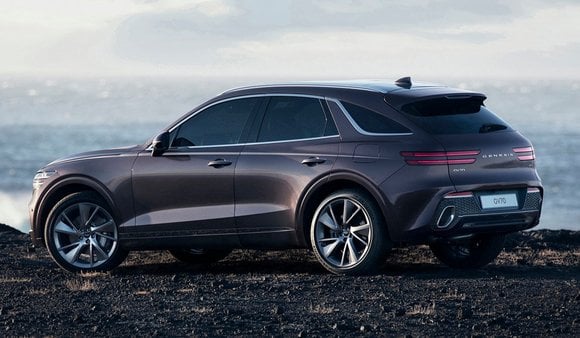 In Genesis' lineup, the 2022 GV70 is one of the more affordable options. The 2022 G70 sedan costs $38,570, the G80 sedan is priced at $48,745, the GV80 midsize SUV starts at $49,945, and the full-size G90 sedan costs $76,495. With a starting price tag of $42,045, the GV70 compact SUV slots in between the G70 sedan and G80 sedan, which makes sense, as the G70 and GV70 share the same platform. Compared to the GV80, the other SUV in Genesis' lineup, the GV70 is $7,900 cheaper, which means few consumers will cross-shop the two models.
At the top of the range, the GV70 3.5T AWD Sport Prestige starts at $63,545. That model features 21-inch wheels, Nappa leather upholstery, carbon fiber trim, heated rear seats, three-zone climate control, a head-up display, acoustic rear door glass, and a 12.3-inch 3D digital cluster. While that sounds like a lot of money, compact SUVs from German automakers can top $70,000 for fully-loaded models. So even the priciest GV70 seems like a relative bargain.
Genesis hasn't given us an official on-sale date for the 2022 GV70 yet, but claims that the vehicle will arrive in showrooms later this summer. If the vehicle drives half as good as it looks, we think it's going to be a massive hit.