Pricing for the 2022 GMC Sierra HD Pro will start at $37,895, according to data based on recent order guides. That means the renamed base models of the Sierra 2500HD and Sierra 3500HD pickup trucks will have the same prices as the previous year. Here's a quick look at what this means and what shoppers can expect.
At the entry level, the 2022 Sierra 2500HD Pro has an MSRP of $37,895 with destination. That gets you a Regular Cab in a 4x2 configuration. The Double Cab adds $2,600 for an MSRP of $40,495, while the Crew Cab starts at $42,295. Prices for the larger 3500HD Pro start at $39,095, $41,895, and $43,495, respectively.
The Sierra HD is still fresh off its 2020 redesign, and the cheapest Sierra HD trucks will continue to offer a choice between either a 6.6-liter V8 making 401 hp and 464 lb-ft or a 445 hp Duramax diesel V8 with up to 910 lb-ft of torque. A 6-speed automatic is standard with the base engine while the diesel offers a 10-speed.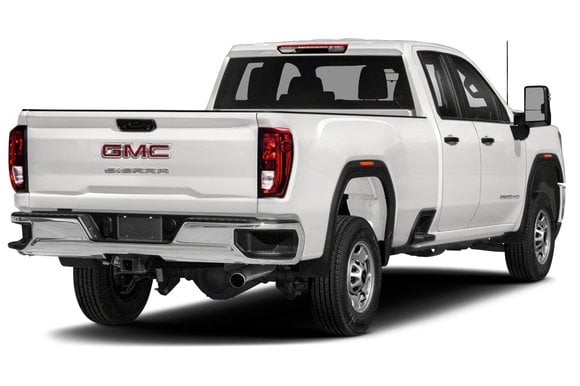 The use of the Pro moniker isn't surprising for a brand that calls itself "professional grade." However, it could be confusing for shoppers expecting a vehicle called the Pro to be a higher-end model. This appears similar to how Ford is marketing the F-150 Lightning EV, which offers an entry-level work truck with the same name.
For now, there are no indications that the Sierra 1500 full-sized truck will follow suit. That said, we think there's a strong possibility given the fact that the cheapest Sierra is still called the Sierra Base. We'll have to wait for full details from GMC on whether or not the name change will be applied more broadly across its lineup.
GM has been reconfiguring its entry-level lineup. In May, we learned that the 2022 GMC Terrain SUV would discontinue the least-expensive SL model, resulting in a $2,900 increase in base price. Similarly, 2022 Chevy Equinox pricing is $2,000 higher than the previous year with a similar loss of the entry-level L trim.
2022 Sierra HD pictured