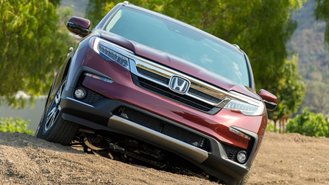 The Honda Pilot will be the brand's second model to bear a TrailSport badge for 2022. According to data derived from Honda's latest order guide, the 2022 Pilot TrailSport will cost nearly $45,000 and will battle a growing field of off-road-themed SUVs when it goes on sale nationwide at dealers later this year.
The 2022 Pilot TrailSport has an MSRP of $44,785 after a destination charge of $1,225, putting it squarely between the Pilot Special Edition ($42,885) and 8-passenger Touring trims ($46,845). That's a difference of $1,900 at the lower end and $2,060 at the top when comparing all-wheel-drive configurations.
Although Honda hasn't released full official specs just yet, we do know that the Pilot TrailSport will come with the same 280-horsepower 3.5L V6 and 9-speed automatic as other Pilots. Other key features include 18-inch gloss black alloy wheels, heavy-duty 245/60R18 105H AS tires, and a leather interior.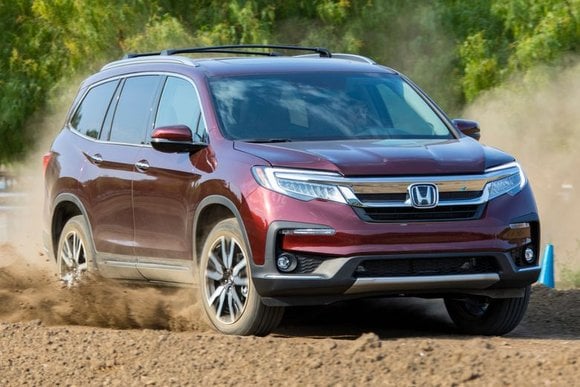 Unlike most other Pilots, the TrailSport will only be sold with all-wheel drive. While that could limit some of its appeal, it could be an alternative to vehicles like the Jeep Grand Cherokee Trailhawk. The TrailSport is by no means the most expensive Pilot — that remains the Black Edition with an MSRP of $51,845.
What remains to be seen is just how expensive the Pilot TrailSport is relative to the upcoming Passport TrailSport. The rugged version of the 2-row SUV will get a similar treatment, with unique badging and seat embroidery emblazoned with the TrailSport logo. The 2022 Ridgeline does not yet offer a TrailSport.
So what's the purpose of a TrailSport? Perhaps it's to keep up. Jeep already offers a number of Trailhawk models, while Toyota has an established lineup of TRD vehicles. Subaru has a new Wilderness trim, while even Hyundai has a growing selection of sportier-looking SUVs like the 2022 Santa Fe XRT.
The TrailSport isn't the only Pilot development for 2022. That's because Honda has discontinued the LX and EX trims and replaced them with a new base model called the Pilot Sport. Rather than being a stripped-down base trim, it'll offer some premium features but at a considerably higher price than before.
Build & Price Your Honda Pilot
Honda Pilot Elite pictured