The Honda Ridgeline will get a small price bump for the coming year, according to a pricing guide sent today to dealers. Oddly, a closer look finds no mention of a TrailSport model, potentially dashing any hope (for now) that the model might gain a more rugged variant following a recent announcement from the automaker.
The 2022 Honda Ridgeline will start at $38,115 with destination, $400 more than the previous year. In fact, every Ridgeline will see a $400 price hike, with the most expensive Black Edition coming in at an MSRP of $45,545. Notably absent is a TrailSport trim — somewhat surprising given Honda's plan to expand its lineup.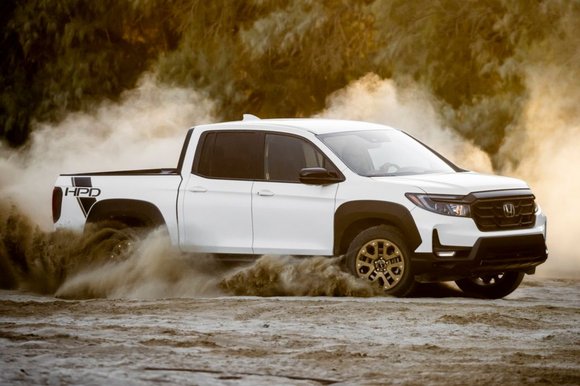 Having said that, the 2022 Ridgeline will continue to offer a Honda Performance Department (HPD) Package. For example, the HPD Black Package, priced at $2,800, adds flared fenders, 18-inch HPD wheels, and a black grille, lug nuts, HPD decals, and emblem. There's also a bronze-themed version of the same setup.
Honda hasn't officially ruled out the possibility of a Ridgeline TrailSport, and we don't know if the company plans to add one later in the model year. Honda claims its new crop of TrailSport models will "become the halo for the off-road capability, versatility and durability that has long been engineered" into its trucks.
The first model to get the TrailSport treatment will be the 2022 Passport SUV. Design elements like heavy-duty skid plates and slightly more aggressive styling could give the brand a dose of excitement to battle alternatives like Jeep's Trailhawk lineup, Chevy's ZR2 models, and GMC's expanded selection of AT4 variants.
Top Honda Lease Deals, Rebates & Incentives
Pictured: 2021 Ridgeline