In yet another setback for manual transmission fans in the U.S., the 2022 Hyundai Accent will not offer a stickshift option. According to the manufacturer's latest order guide, the subcompact car will only be sold with a continuously-variable transmission. As a result, the Accent's base price will increase by nearly $1,300.
For 2022, the model will start at $17,670, or $1,270 higher than the $16,400 MSRP of a 2021 Accent SE with 6-speed manual gearbox ($16,400). Now that the manual will be discontinued, the higher price will bring the Accent even closer to the $19,935 MSRP of the 2021 Hyundai Venue SUV before incentives.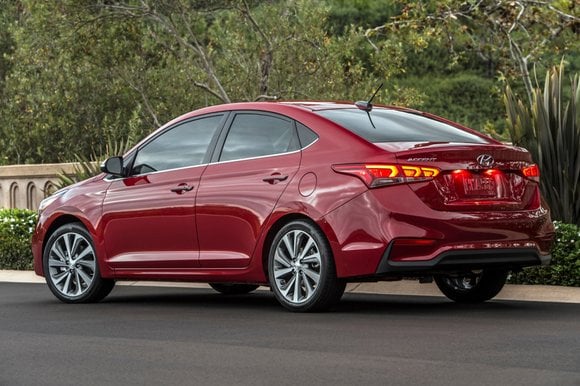 While manuals are less popular here than in other parts of the world, there seem to be fewer choices than ever before. This summer, we learned that sister company Kia discontinued the manual version of the 2022 Soul hatchback. Last year, Hyundai dropped the manual option from its affordably-priced Venue.
At just under $18,000, the Accent will continue to be Hyundai's cheapest model. The downside is that there are very few alternatives. You can still buy a 5-speed Nissan Versa S sedan (MSRP $15,930) or the 5-speed Chevy Spark LS hatchback ($14,595). There's also the 5-speed Mitsubishi Mirage hatch ($15,565).
Although you used to be able to buy a Hyundai Veloster with a manual, the standard model was recently discontinued. The Spark remains the cheapest car you can buy in America. Even better, Chevy is offering 0% APR for 72 months, a remarkable value for buyers looking to score the lowest monthly payment.