A day after revealing the starting price for the 2022 Hyundai Kona N, Hyundai is finally ready to announce pricing for the 2022 Elantra N. The high-performance compact sedan will start at $32,925 (prices include destination) for a model with a six-speed manual transmission and $34,425 for a sedan with an eight-speed dual-clutch automatic transmission. This makes the Elantra N $600 less than the Veloster N and $2,500 less than the Kona N.
The pricing for the Elantra N is in line with what we expected, as we thought the sporty sedan would start at around the $30,000 mark. Shoppers interested in purchasing an Elantra N will find that the sporty sedan is one of the more expensive offerings in the class. The Volkswagen Golf GTI costs $30,935, Honda Civic Si starts at $28,315, Subaru BRZ costs $28,955, and Toyota GR86 is priced at 28,725.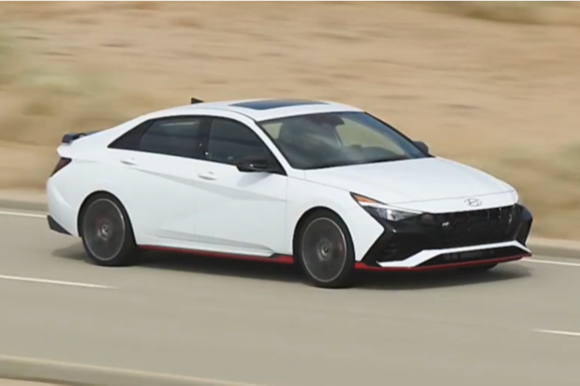 Compared to those options, the Elantra N packs some serious performance. It comes with a turbocharged 2.0-liter four-cylinder engine that makes 276 horsepower and 289 pound-feet of torque. That makes it more powerful than any of its direct competitors. The Elantra N also offers some other high-performance parts like an electronic limited-slip differential, Michelin Pilot Sport 4S tires, adaptive suspension, a variable exhaust system, special drive modes, and 14.2-inch front rotors. While we haven't driven the Elantra N yet, we expect the sedan to be a seriously competent machine.
For the majority of consumers that aren't interested in the sporty N upgrades, all they'll see is that the regular Elantra is $12,050 less. There is some good news on that front, as a dealer incentive bulletin claims that Hyundai is offering ultra-low lease rates on the Elantra N. This could make the sedan more popular than the hatchback, as we haven't seen great deals for the Veloster N.
Build & Price Your Hyundai Elantra N
Pictured: 2022 Hyundai Elantra N